The 2017 American Ceramic Circle Book Award
The American Ceramic Circle Book Award, established in 2005, recognizes English-language publications that advance the study of ceramics, present new scholarship and interpretations, and, in doing so, become important and standard references in the field.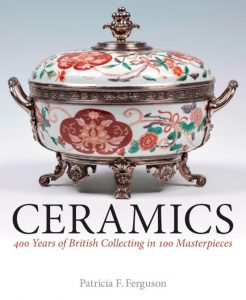 This year, after the careful review of several worthy books, the ACC Book Award Committee identified Ceramics: 400 Years of BritishCollecting in 100 Masterpieces, written by Patricia F. Ferguson and published by Philip Wilson Publishers, London, as this year's winner.
This thoroughly-researched volume showcases 100 masterpieces selected from the vast collections of the National Trust. Novel and noteworthy in her approach, Ferguson has arranged the book, not by the conventions of material, place of origin or date, but by the time these objects began to appear in British households. In doing so, the author has created a book that is as much about history of taste, privilege, pride of possession and preservation as it is about the history and development of ceramics. This publication offers a bounty of new scholarship and is an engaging read. Without doubt, this volume represents the best of ceramic scholarship and is destined to find a prized place on the bookshelves of nearly all ceramic collectors, curators and scholars.
Books on ceramics published in 2017 are eligible for consideration for the 2018 American Ceramics Book Award. If you wish to suggest a book for review, please contact ACC Book Award Chair Amy Dehan at amy.dehan@cincyart.org not later than June 1, 2018.