Member Login
The Members area of this website is intended to provide members with easy access to the research facilities which have either been generated by The Northern Ceramic Society, or donated to it.
Those facilities currently include :
Facility to download PDF files of many of the NCS Newsletters  and  Journal articles
Access to Index of Registered Ceramic Designs 1884-1900, (a member's donation),
Access to Index of Potteries Jotteries, news items about the pottery industry from 1981 to date, published in 131 contributions to Newsletters.
Additional contributions of summaries of members' research will be welcome.
If you are not yet a member then why not check out our How to Join page?

Frequently Asked Questions
How do I log in to the Members Only section ?
When you press the Login Button, it will take you to a page headed WordPress which asks for your Username and Password.  WordPress is the name of the software which runs this website.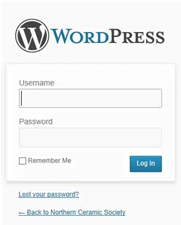 Your Username will be your email address.  If you do not yet have a password then please click this link to email the website administrator at to request one, which you will able to change subsequently.
If you have had a password, but forgotten it, click the 'Lost your password?' link on the WordPress login page.  You will then be prompted to enter your email address.  When this has been verified, WordPress will send you and email with a link to reset your password.  Click on that link in the email and you will be prompted to enter a new password.
What happens immediately after I log in ?
Immediately after you have successfully logged in, WordPress will show you your User Profile page.  On almost every occasion, you will simply want to get out of that page and return to the website as a logged in member.
To return to the website, as a logged in member, move your cursor to the menu in the top left hand corner named "Northern Ceramic Society" which will show a drop-down box called "Visit site".  Click on "Visit site", and you will be back on the website as a logged in member.
Whilst you are so logged in, the black menu bar will continue to appear at the top of your screen to show that you are logged in.  If you move your cursor over that bar, you will see that from the left hand end, there is a menu option to return to your Profile page, and from the right hand end, there are options to either Edit your Profile page or to Log Out.
Apologies if you don't like the Greeting "Howdy" in the menu on the right, it is a feature of WordPress that we can't amend – its author is Australian.
What is the WordPress Profile page for ?
The WordPress Profile page simply records that you have been set up as a User of the website, as a member of the NCS.  Your rights as a User are controlled by the website administrator, who sets access facilities for you, but not facilities to edit the website etc., and you cannot have those facilities changed without contacting the website administrator.
The sections of the Profile dealing with Name and Contact Information should not be changed, and no biographical information from the About Yourself section is required or used.  However, the About Yourself section does include the facility for you to change your Password, which you are welcome to do – see separate FAQ.
How do I change my password ?
After you have logged in with your initial temporary Password, Go To your Profile page as described above under What is the WordPress Profile page for ?
In the bottom section of your Profile, called About Yourself, you will see two fields called New Password and Repeat New Password.  If you wish to change your password, enter your new password in both those fields and then click the Update Profile button.  Your access Password will then be changed to the new Password that you have chosen and entered.
Journal & Newsletter search
Register of ceramic designs
Staffordshire apprenticeships