Lockdown coffee break
A chance discovery makes my morning coffee even more of a treat.
Read the whole story below.
Lockdown coffee break
Enjoying morning coffee on a weekday in early May, pretty much like any other day in lockdown when a regular mailing from SODAC (Society for Decorative Art Collections) popped into my inbox. Among the excellent Newsletter articles, an item by Rachel Hunt, Curator & Collections Manager at Portmeirion Ltd caught my eye: 'Mermaids and Dolphins: the aquatic origins of Portmeirion Pottery'.
A couple of years ago I bought a small mug (fig 1) at the Portmeirion Factory Shop in Longton; it is the perfect size and shape for my once-a-day small cup of moderately strong coffee and has my favourite 7-shaped handle- a good shape for the hand and reflected in other practical forms, such as Jasper Conran's mug designs for Wedgwood. As I sipped, I read the article by Rachel and considered the coincidence of finding I was using an item and reading about its design without any deliberate attempt on my part to bring this about.
The printed mark (fig 2) indicates that the pattern 'Dolphin' was designed by Susan Williams-Ellis (1918-2007), founder of Portmeirion Pottery, itself named after the famous village in North Wales where between 1926 and 1976 her architect father, Clough Williams-Ellis designed many picturesque Italianate buildings.
I was interested to read about Susan Williams-Ellis's career as a designer. Following her time at Dartington College, I learned that she didn't have an early ambition to go into ceramic design but did develop some skill as a thrower. Mid-career she went on to claim that she had always wanted a pottery and after 1959 her establishment of Portmeirion Pottery brought this to fruition. I also learned that 'Dolphin' pattern was inspired by far from conventional designers' activities. Rachel Hunt quotes 1950s columnist Theo Goldrey who declared: 'Susan Williams-Ellis is the first ever "mermaid" artist. She paints, from life, under the sea …'. Rachel goes on to remark, 'Strange as it seems, there is some truth in this portrayal, as Susan had invented a method of sketching underwater (fig 3), and from these sketches derived her designs for carpets, textiles and ceramics'. The 1950s designs pre-date her pottery manufacturing days. 
Clough Williams-Ellis designed a logo of a stylized mermaid for Portmeirion and when Susan and her husband Euan took over running the 'Ship Shop', the souvenir shop there in the early 1950s, she re-designed the logo and commissioned specially-decorated wares from Gray's Pottery for sale to visitors. 'Dolphin' continued the maritime theme and early examples were also produced at Gray's. Both designs appeared on goods also sold later in the 1950s in the Portmeirion London shop- it would now be described as a 'lifestyle' store selling well-designed homewares.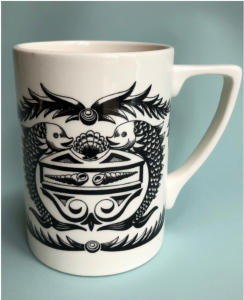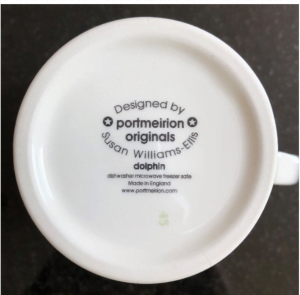 Figs 1 & 2 Picture credit: Deb Skinner
In 1959 Gray's Pottery was put up for sale, so Susan and her husband bought it. It was expanded in 1962 to become a manufacturing as well as a decorating business, Portmeirion Potteries Ltd. 'Dolphin' appeared in many different formats and colours over the years, and, as my relatively recent acquisition proves, was versatile and long-lived. One of the last ranges designed by Susan Williams-Ellis returned to her maritime theme and early this century, she produced a set of six designs 'Caribbean Platter', also based on her underwater sketches.
Portmeirion was and still remains a successful business in Stoke-on-Trent and I am pleased to report that Keele University awarded Susan Williams-Ellis the Honorary Degree of Master of the University for an Outstanding Contribution to the Ceramics Industry Internationally.
Deb Skinner
I can claim no research effort whatsoever in the writing of this item and am indebted to Rachel Hunt, SODAC and Portmeirion Ltd.
Reference
Hunt, Rachel, 'Mermaids and Dolphins: the aquatic origins of Portmeirion Pottery', Society of Decorative Art Collections Newsletter, Spring/Summer 2020, pp16-20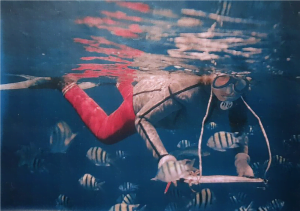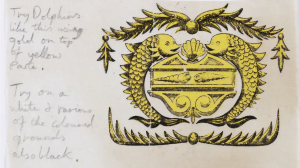 Figs 3 & 4 Picture credit: © Portmeirion Ltd