You can't have too many books!
For some of the latest ceramic reads check below.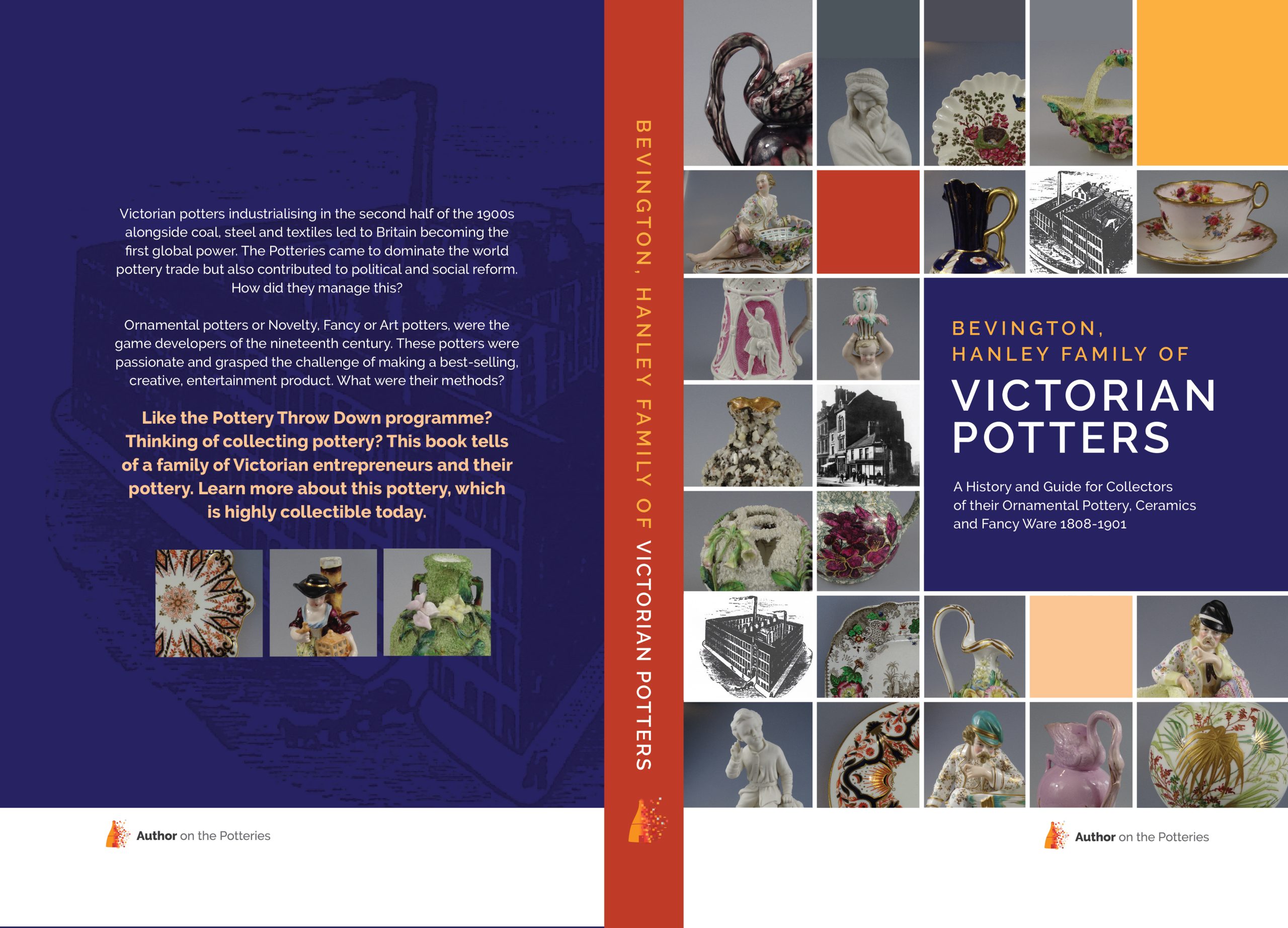 Ornamental potters, sometimes referred to as Novelty, Fancy or Art potters, were the game developers of the nineteenth century.
Like game developers, these potters were passionate and grasped the challenge of making a best-selling, creative product. They created a ware which was for entertainment, with a unique mixture of creativity, design and technology to make goods that were marketed and sold to all four corners of the world.
This book tells the story of relentless, Victorian potters building a trade, industrialising in the second half of the 1900s.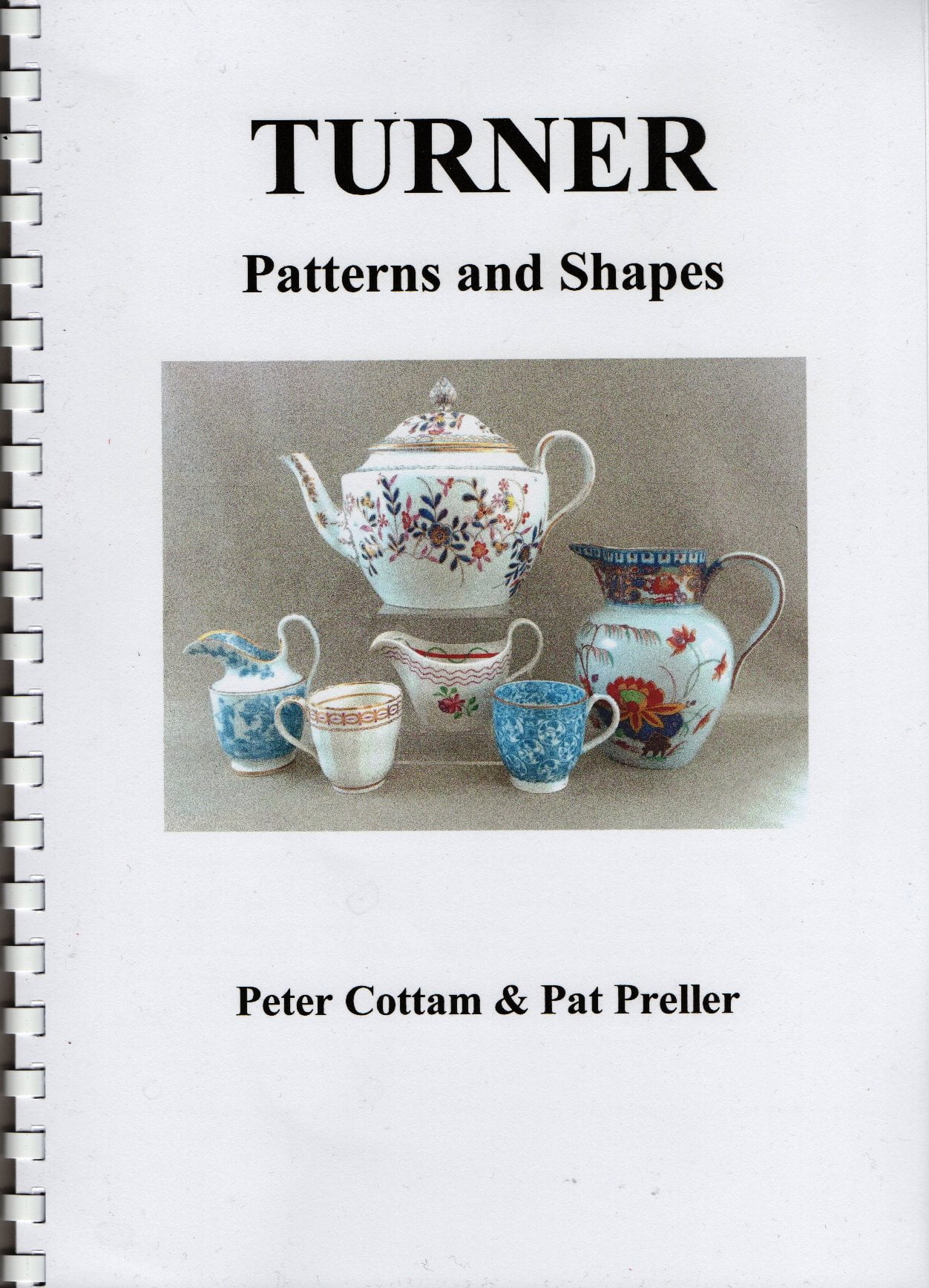 Turner Patterns & Shapes
by
Peter Cottam & Pat Preller
This booklet by members Peter Cottam and Pat Preller,  details over 70 patterns on different shapes manufactured by Turner. Wares illustrated include polychrome porcelain, blue & white porcelain and earthenware, and  Turner's Patent pots.   There is a short synopsis of the life of the manufactory as well as illustrations of the marks used by Turner.
The booklet comprises 32 pages,  is soft back and  A4 size.
Price £20 + p&p
To order your copy please email Peter Cottam at  peter8ange6@btinternet.com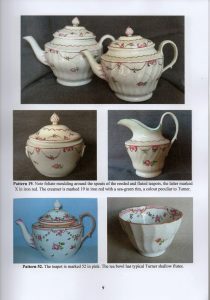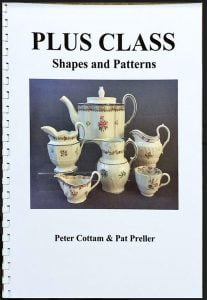 Plus Class
Shapes and Patterns
by
Peter Cottam & Pat Preller
Plus class is the name given to a group of porcelains with a + or  x after the pattern number.  This booklet illustrates comparisons, discusses theories, and shows the current range of shapes and patterns found in this mysterious group.
The booklet comprises 22 pages,  is soft back and  A4 size.
Price £15 + p&p
To order your copy please email Peter Cottam at  peter8ange6@btinternet.com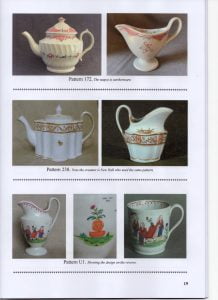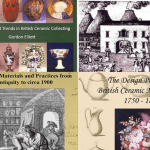 Longtime member Gordon Elliott has a website where you can
purchase downloads or cds of his many books
Gordon Elliott MA PhD  was Keeper of Ceramics at the City Museum & Art Gallery, Stoke-on-Trent, now The Potteries Museum.  He then became  Principal Lecturer in ceramic history in the Department of History of Art & Design at Staffordshire University. In addition to teaching responsibilities he has successfully supervised post-graduate students at Masters and Doctorate levels. More recently his energies have been focussed on lecturing and writing.
His wide range of books is available at Claylake Publications, check it out here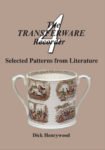 New volume of The Transferware Recorder Published
by Dick Henrywood
    Reynardine Publishing are delighted to announce the publication of a fourth volume in the Transferware Recorder series. Again authored by Dick Henrywood,     this volume is a first foray away from British views, concentrating this time on patterns related to literature. It covers prose, poetry, novels, plays, and their            authors, with Sir Walter Scott, Charles Dickens, William Cowper, William Shakespeare, Robert Burns, Lord Byron, James Thomson, Samuel Rogers, and even Virgil and Aesop making guest appearances. The book covers seventeen different series of patterns by makers including Davenport, William Ridgway, John Rogers & Son, Bailey & Ball, T. & R. Boote, Goodwins & Harris, Pountney & Goldney, John Meir, John & Robert Godwin, Joseph Clementson, Dillwyn (Swansea), William Smith & Co. (Stockton) and the Brownhills Pottery Co. There are separate chapters on Shakespeare and Cowper, and a good selection of individual patterns which are not part of series. Characters encountered include Don Quixote, Robin Hood, Robinson Crusoe, Tam O'Shanter, Paul and Virginia, Little Nell, plus, of course, the various characters found in Scott's Waverley Novels. Extending to over 200 pages and with more than 700 illustrations, it is the largest volume to date, printed as before in colour throughout.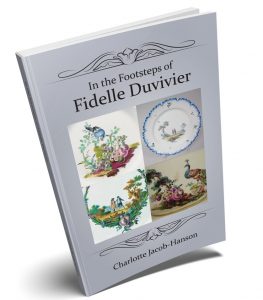 In the Footsteps of Fidelle Duvivier by Charlotte Jacob-Hanson
  A career summary of Fidelle Duvivier with new discoveries of his work for the Sceaux manufactory in France including a pictorial Appendix illustrating examples of his decoration done in England, France, and the Netherlands.
 Format: Soft-cover, 8 ½ by 11 inches, 108 pages, 125 illustrations
Available from the author at her website:  www.chjacob-hanson.com
 Price: $45, payable with PayPal/credit card (includes postage and handling for customers in the US and Europe).
Estimated shipping time 2 to 3 weeks.
 Charlotte Jacob-Hanson's articles on Duvivier posted at www.academia.edu under her name, and can be read or downloaded.
"Fidelle Duvivier in France and the Netherlands," The Magazine ANTIQUES, (Brant Publications, Inc.. New York), January 2006.
"Fidelle Duvivier: Tracing the Career of a Porcelain Painter," Vormen uit Vuur, Nr. 199, 2007/4, pp. 37-45.
"Deux-viviers? A critical reappraisal of the Duvivier family," Transactions of the English Ceramic Circle, vol. 19, part 3 (2007), pp. 477-483.
"New Attributions: Fidelle Duvivier in the Netherlands," International Ceramic Fair and Seminar Handbook, June, 2008, pp. 19-27.
"Fidelle Duvivier: The Painter and his World – Collected Memories," Northern Ceramic Society Newsletter, No. 184, December 2016, pp. 45-53.
New discoveries are posted at her website regularly under 'Gallery & Blog'.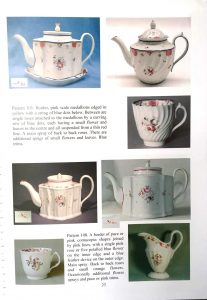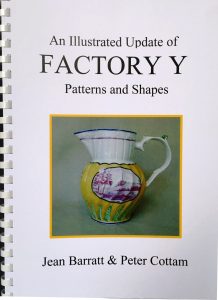 An Illustrated Update of Factory Y Patterns & Shapes  by Jean Barratt & Peter Cottam 
This booklet illustrates known tea ware shapes & sequence of patterns followed by the "U" patterns as well as some pots with a tentative attribution to Factory Y.
Showing over 65 patterns on different types of tea wares it is a revised edition of the previous publication on this subject.
The booklet comprises 46 pages,  is soft back and  A4 size. 

To order your copy please email Peter Cottam at 
peter8ange6@btinternet.com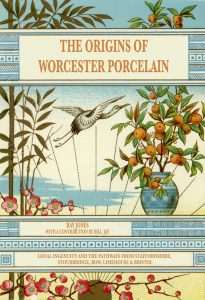 The Origins of Worcester Porcelain:
Local ingenuity and the Pathways from Staffordshire, Stourbridge,Bow, Limehouse & Bristol 
by 
Ray Jones with a contribution by Bill Jay
The book discuss aspects of ceramic developments in Great Britain from around the 1720s onwards that brought about, or had a bearing on, the founding of the Worcester porcelain manufactory. The book features rare and significant wares (dating prior to 1760) from the Museum of Royal Worcester, other museums, auction houses and private collections. The two main pathways discussed are:
The pottery route from Staffordshire & Stourbridge (including the approximate site of William Shore's pottery and the probable Robert Podmore connection); Podmore's move to Worcester, the Doctor Wall/ William Davis experiments; and the probable wares produced at Worcester prior to the purchase of the Lund's Bristol concern. A discussion of the early careers of William Shore and Benjamin Quarman.
 New evidence and discussion of porcelain experimentation from the 1720s onwards embracing soaprock; Thomas Briand's porcelain manufactory in South London; a survey of 'A' Marked wares; Edward Heylyn and Bow; the evolution and failure of the Limehouse manufactory; the wares of the Limehouse manufactory including many images; the emergence of Benjamin Lund at Bristol and his incredible life story; the possible Redcliff site of Lund's porcelain works; the wares of the Bristol manufactory including many images; associations with Delftware; and other aspects of glasshouses and ceramics in Bristol.
The book tracks the development and the progression of the Warmstry manufactory to around 1758 with a detailed examination of when mainstream production commenced and when the extensions to the works were completed that allowed full scale enamelling to take place. The wares of the Worcester manufactory to around 1758 including many images. The varying roles of the personalities involved are examined. This book combines connoisseurship, new facts and known history. New and existing analytical data help support the arguments put forward. A major contribution by Bill Jay with largely unpublished chemical data features.  Find more details and how to order   
SWANSEA COMMEMORATIVE POTTERY  by Helen Hallesy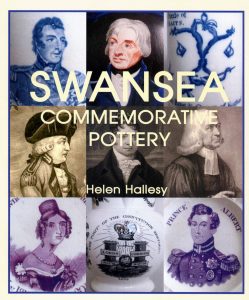 A hardback book, limited edition of 300 copies, with over 200 coloured illustrations. The focus of this book is on a relatively small group of wares produced at the Swansea potteries which were intended to amuse, educate, inform and sometimes persuade an ever-growing middle class audience who, from the late eighteenth century showed a marked increase in education and literary skills and a participation and interest in political and social awareness. Ceramic manufacturers depended on London print shops to provide the sources from which the engravers could derive inspiration and subsequently copy; many of the Swansea designs can be traced to contemporary prints published at that time. The engravers who worked at the potteries are discussed and the sources from which they copied their designs are revealed. The difficulties of communication and travel into and out of South Wales are also examined. The subjects examined include historic events and personages; naval and military heroes, royalty, local electioneering events, social reformers and campaigners. The unifying message was one of admiration, respect and honour and a tangible reminder of some of our nations more memorable events. By placing the subjects in their social and economic context, the characters are brought to life where Swansea is placed centrally against a backdrop of international wars, politics and reform.  
Find more details and how to order 
The Art Potteries of Swadlincote Derbyshire by David Ash & Pat Paling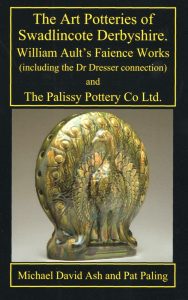 This book deals with the history and products of the only two 'Victorian' art potteries ever to exist in Swadlincote, Derbyshire. They were
William Ault's Faience Works
and
The Palissy Pottery Co Ltd
both situated in Midland Road. The section dealing with William Ault's works includes an investigation into the influence of the contribution to this pottery's success by
Dr Christopher Dresser,
the eminent designer.
Ault's pottery is known the world over and is regarded by many art pottery collectors as the Bretby Art Pottery's main
rival
and
equal
. Palissy, on the other hand, is hardly known at all and yet it too produced some pieces which 'artistically' speaking were just as good as both of the above potteries. 
Find out more and how to order
Identifying Daniel Ornamental Wares 
by Brian Smith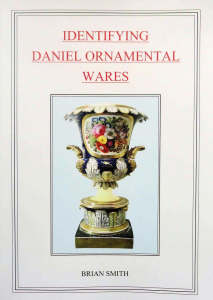 Published in July 2017, this limited edition of 150 copies is an A4 size book with laminated covers, which has 291 pages with over 620 colour illustrations, The only previous work on the topic, Michael Berthoud's Daniel Ornamental Wares, was a 30 page Bulletin, dating from 2002. Valuable as that ground-breaking work was, it has long been out of print and copies are hard to come by. This far more substantial new work illustrates all 26 loose pages from the only known surviving ornamental Daniel pattern book found at the V&A Museum and includes a wealth of new information, illustrating many 'as-made' examples of vases, scent bottles, ewers, jars, standishes, and pen trays that have been identified over the last 15 years. It is a 'must-have' item for Daniel collectors.
Find more details about this book and the one below – together with order forms 
AND Published in 2015 – a few copies still available still with special discount to NCS members.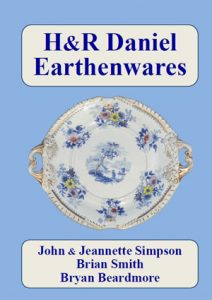 H&R Daniel Earthenwares
By John and Jeannette Simpson, Brian Smith and Bryan Beardmore The reputation of Henry and Richard Daniel is based on their glorious porcelain but, in spite of its importance to the commercial success of the company, little has been written about their huge production of earthenware. Signposts to Daniel earthenwares were provided in the pioneering works of Geoffrey Godden and Michael Berthoud, but few have followed that path until now. This is the first book to attempt a comprehensive survey of the various shapes and patterns produced in earthenware by H&R Daniel and to differentiate them from other contemporary manufacturers such as Thomas Dimmock & Co, to whom they are frequently attributed. Published in a limited edition of 200 copies by the Daniel Ceramic Circle with the generous support of the Transferware Collectors Club through the Paul and Gladys Richards Charitable Foundation Research Program.  134 pages, paperback, printed in full colour throughout.