STONEWARE
This gallery is based on the NCS Exhibition, Stonewares & Stone China Of Northern England To 1851. All previous NCS exhibition catalogues are now available on one CD. Click "Publications" above to buy a copy.
SW1. Coffee Cup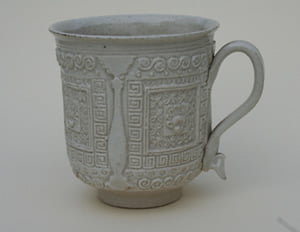 An undecorated but finely moulded slip cast white saltglaze stoneware coffee cup.
See"White Salt-Glazed Stoneware of the British Isles",by Diana Edwards and Rodney Hampson 2005, Figures 66 & 67 for pictures of similar master moulds for teapots.
c.1750
Height 58mms.
SW1a.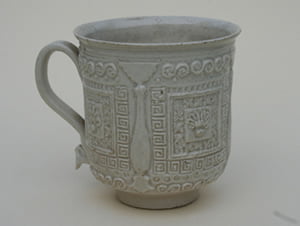 Showing more of the fine molding.
SW2. Teapot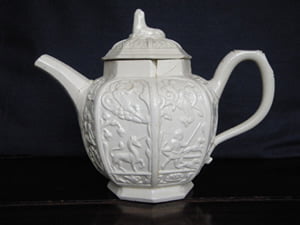 An octagonal white saltglazed stoneware tea pot slip moulded with birds, game, unicorn, children, heraldic coats of arms, a tea pot and a kettle on a grate. Strange animal finial.
Probably Staffordshire.
See"White Salt-Glazed Stoneware of the British Isles",by Diana Edwards and Rodney Hampson, 2005 pages 84 & 85 for pictures of similar master moulds.
c.1750
Height 12.5cms.
SW3. Teapot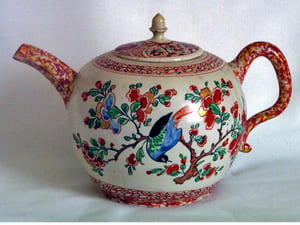 White salt glazed teapot with enamel painted decoration of a large blue bird in a colourful tree with gilt highlights.
c.1760's
Height 13cms.
SW4. Jug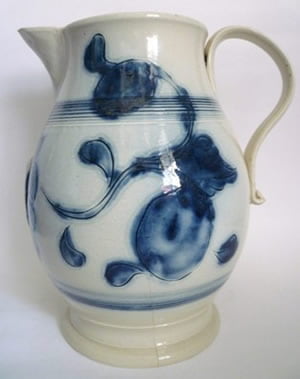 A large white salt-glazed stoneware tavern jug decorated with a simple form of "Scratch-blue" decoration, which has cobalt blue roughly painted into an incised outline. These ware typically have an applied pad (of varying designs) bearing a "GR" & crown mark.
c.1780
Height 20.5cm.
SW4a.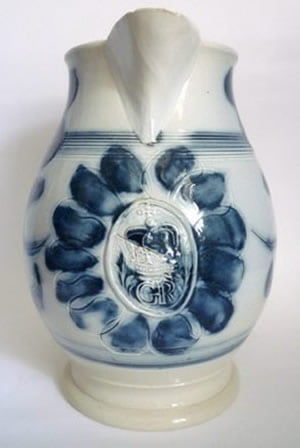 This type of utilitarian ware was made throughout the second half of the 18th century. Examples have been excavated from a number of sites in the Staffordshire Potteries.
See "The Illustrated Guide to Staffordshire Salt-glazed Stoneware", by Arnold Mountford, 1971.
SW5. Tea Bowl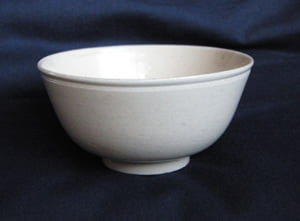 A finely potted white saltglazed stoneware tea bowl, with only two narrow turned bands to the rim as decoration.
Probably Staffordshire.
c.1740-70.
Height 3.5cms, Diameter 7.2cms.
SW6. Jug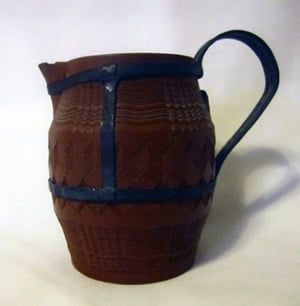 Redware engine turned jug with "Tinker" replacement metal handle.
See NCS exhibition catalogue Stonewares & Stone chinas of Northern England to 1851 for other engine turned examples.
Mid 18th century
Height 9cms.
SW7. Coffee Pot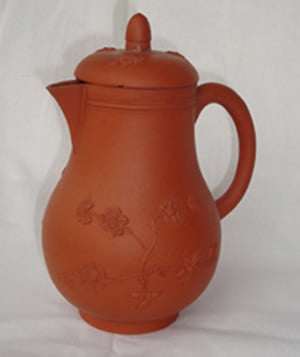 A Redware coffee pot (the lid has a vent), with applied sprigs of long stemmed flowers.
c.1695
Height 17cms.
SW7a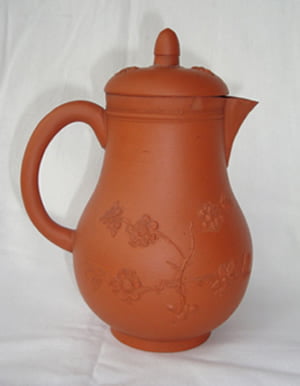 The owner of this pot tells us "I received this coffeepot as a gift from a good friend some years ago, who bought it in Holland".
SW7b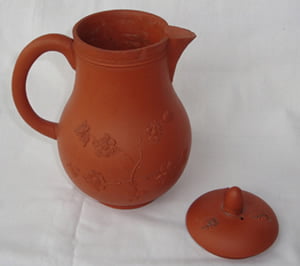 See, "John and David Elers and their Contemporaries", by Gordon Elliott plate 4 for a similar pot.
SW8. Teapot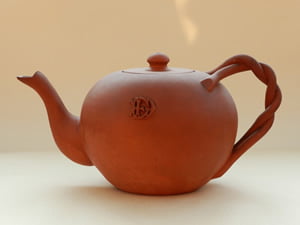 A Redware plain round teapot with a twisted handle and the initials "ED" or "DE" embossed on one side. There is a large impressed mark to the base, but unfortunately most of it is illegible and the only word we can make out is "POTTERY".
The owner thinks that it is a good quality studio pot from the mid-20th century. Height 13.cms
SW9. Jug/Creamer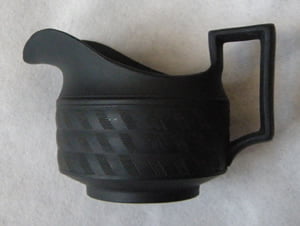 A round black basalt creamer with engine turning. Keeling,Toft & Co.
c.1810
Height 6.5cms.
SW9a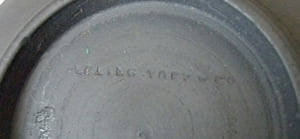 The impressed mark "Keeling Toft Co".
SW10. Teapot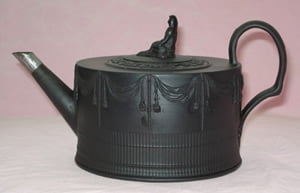 An oval shaped black basalt tea pot with engine turning, swags and a widow finial. It has a domed strainer and an old metal repair to the spout tip.
See, "Black Basalt" by Diana Edwards page 212, figure 324 for similar teapot marked "Neale & Co.".
c.1795
Height 14cms.
SW10a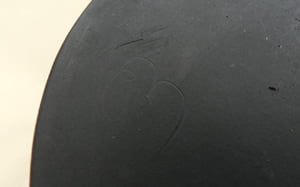 On the base is a faintly inscribed mark which may refer to the potter or modeller.
SW10b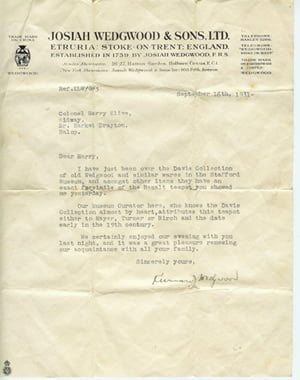 This teapot came with a letter dated 16/09/1931 from Kennard Wedgwood, who was the Chairman of Wedgwood at that time, giving various possible attributions for the tea pot and thanking Colonel Harry Clive for an enjoyable evening.
SW11. Teapot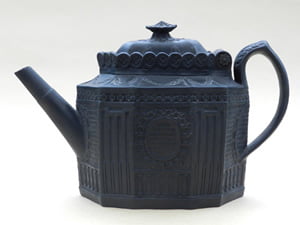 A decagon body black basalt teapot elaborately moulded with brick walls, balustrades, swags etc. It has a domed strainer.
c.1810
Height 15.3cms.
SW11a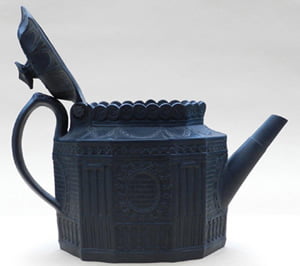 The hinged metal lid.
See NCS Newsletter No 163, September 2011 page 50 for more information on this type of moulding.
SW12. Figure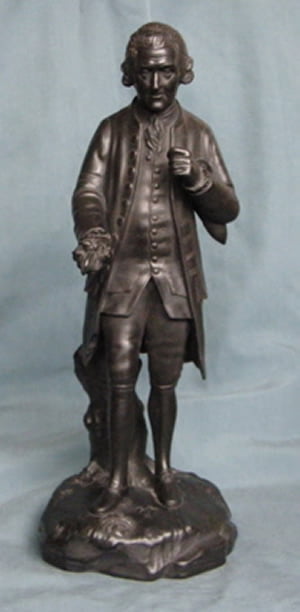 A black basalt figure of the Geneva born French political philosopher and educationalist, Jean-Jacques Rousseau, though this figure is incised at the back of the tree "Rosseau".
The base is impressed "WEDGWOOD".
c.1779
Height 27cms.
SW12a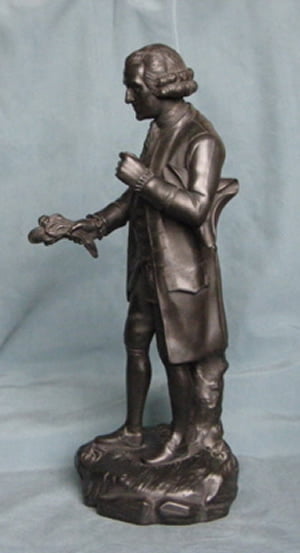 View showing flowers in his right hand, as he was a keen botanist. Walking cane missing from his left hand.
SW13. Jug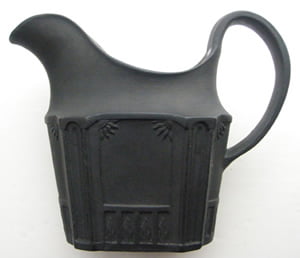 Black basalt silver shape creamer with four moulded pillars but no applied sprigs. Unusually, it is impressed "Wedgwood & Co" in lower case. Attributed to Ralph Wedgwood & Co, Burslem.
c.1795
Height 9.5cms.
SW13a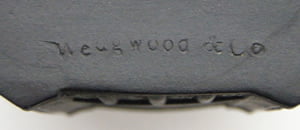 See "English Dry-Bodied Stoneware, Wedgwood and Contemporary Manufacturers 1774-1830" By Diana Edwards and Rodney Hampson. Also see, "Black Basalt" by Diana Edwards, pages 261-264 onwards.
SW14. Bowl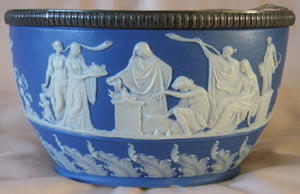 An Adams oval shape blue jasper-dip bowl with white sprigs of ladies, children and cherubs, with leaves applied around the base and metal rim to top. Impressed "ADAMS" & an "L".
c.1800
Height 7.5cms
SW14a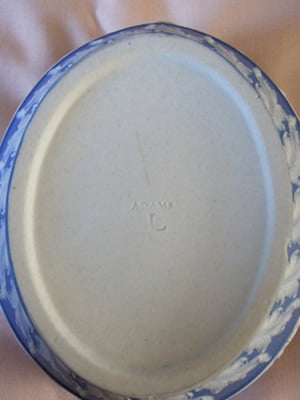 Showing the impressed marks and oval shape.
SW15. Ring and Beads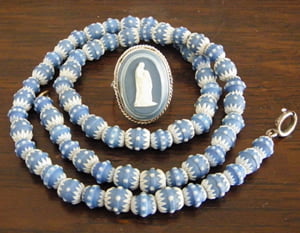 An unmarked solid blue jasper with white sprigs necklace, (not original stringing), made up of sixty-seven beads of two sizes. Diameter of each bead 0.5cm or/and 0.7cm.
Late 18th century.
The jasper ring mounted in metal, impressed "Wedgwood & Bentley". Height of jasper 2.2cms.
c.1769-1780
SW15a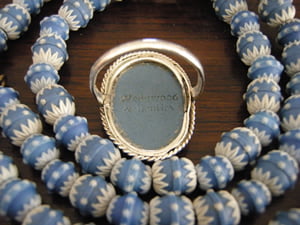 Close-up of the "Wedgwood & Bentley" impressed mark.
SW16. Medallian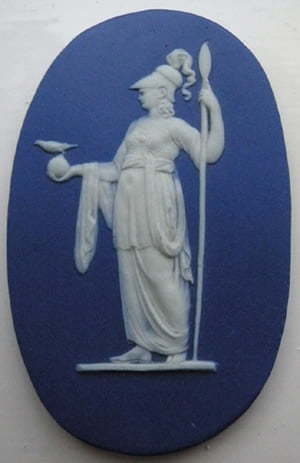 A medallion of solid bright blue jasper with a white relief of Minerva. Impressed "ENOCH WOOD Sculpsit" to rear.
c.1784-89
Height 10cms.
SW16a
SW17. Pie Dish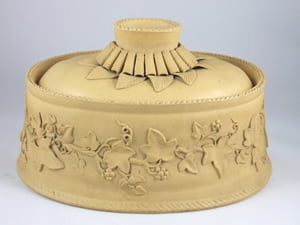 An impressed marked "SPODE" caneware game pie dish with liner and lid.
c.1800
Length 260mm.
SW18. Mug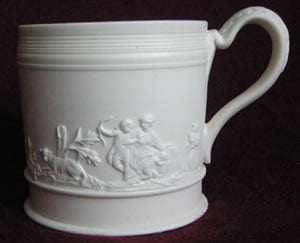 Small white feldspathic stoneware mug engine turned rim decoration with applied sprigs of children and animals. Acanthus leaf moulded to top of loop handle.
c.1810
Height 7cms.
SW18a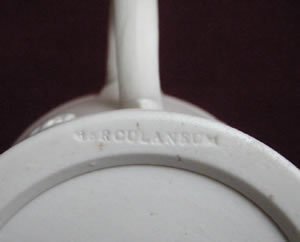 Showing neat impressed mark on footrim.
See "The Herculaneum Pottery, Liverpool's Forgotten Glory", by Peter Hyland for other examples.
SW19. Jug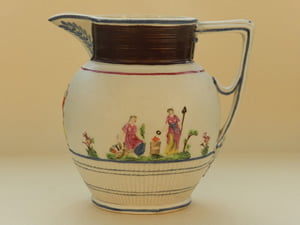 White stoneware jug, unusually, with painted enamel colours over classical sprigs. The sprigs and shape of the jug were used by a number of factories i.e. Neale & Co, Turner and Chetham & Woolley.
c. 1805
Height 14cms.
SW19a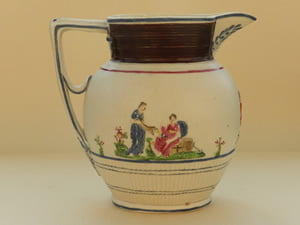 See our Creamware and Pearlware section, CP20 for a tea pot with this type of decoration.
See "A Directory of British Teapots" by Michael Berthoud & Richard Maskell plate 379 for marked Neale & Co., Hanley, picture of a lidless teapot with similar decoration.
SW19b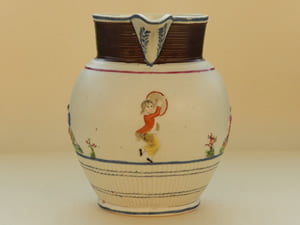 A jolly tambourine man.
SW20. Jug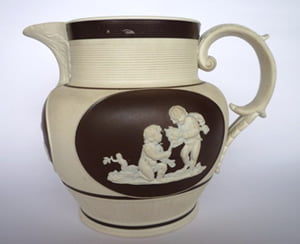 A feldspathic stoneware jug with sprigs applied on brown oval reserves. Attributed to Chetham & Woolley.
c.1809-1815
SW20a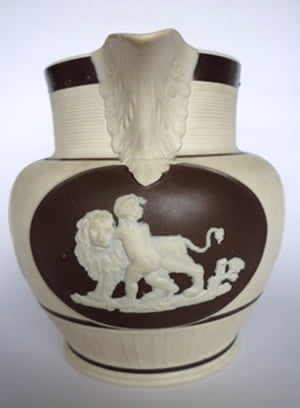 See "Chetham & Woolley Stonewares 1793-1821" by Colin Wyman.
SW20b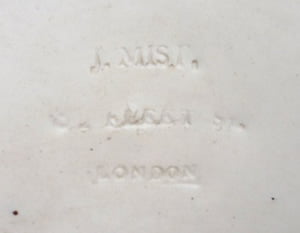 The base has the impressed mark; "J. MIST. 82 FLEET St. LONDON", (for the London retailer James Mist).
SW21.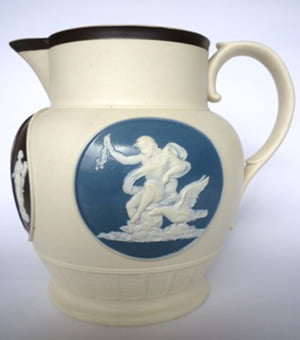 A Superb and unusual feldspathic stoneware jug, sprigged decoration on blue oval ground and brown half oval ground reserves.
Unmarked but attributed to Chetham & Woolley.
c.1800-1815
Height 13.3cms.
SW21a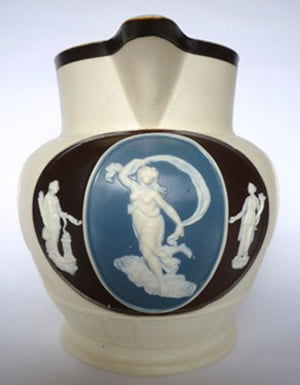 A striking colour combination.
SW21b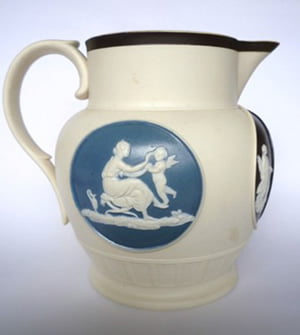 For more information see "Chetham & Woolley Stonewares 1793-1821" by Colin Wyman.
SW22. Teapot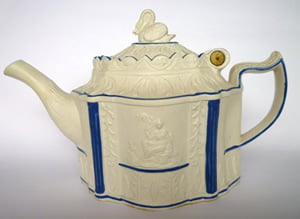 This teapot was exhibited in the 1982 NCS exhibition, "Stonewares & Stone chinas of Northern England to 1851", on page 123 pl.226.
SW22a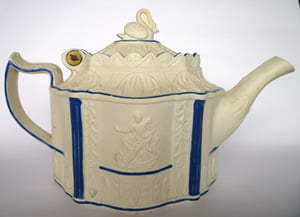 Smear-glazed white stoneware with a swan finial on hinged lid, central sprig designs of "Plenty" & a version of "Sportive Love". Picked out/trim in blue enamel. Unmarked but attributed to Warburton after comparison with marked black basalt version.
c.1800
Height 15.2cms.
SW23. Bust of Winged Cherub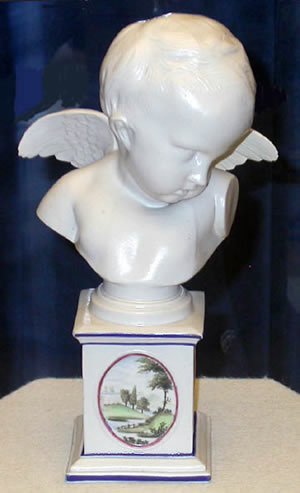 A feldspathic stoneware bust of a winged cherub mounted on a square plinth with cartouches of painted rural scenes. Probably made by Chetham & Woolley.
c.1800-1810
Height 25.5cms.
For more information and attribution see "Chetham & Woolley Stonewares 1793-1821" by Colin Wyman pages 98-102
SW24. Teapot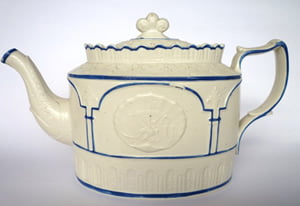 This teapot was exhibited in the NCS 1974 'Collecting English Pottery & Porcelain' exhibition at Temple Newsam House,Leeds. See centre page photo of the catalogue.
c.1805-06
Height 15cm.
SW24a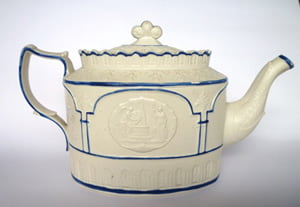 A Chetham & Woolley white feldspathic stoneware teapot commemorating the death of Nelson, picked out with blue enamel lines. One side shows Britannia and Fame (or History) mourning at Nelson's tomb. The other side of the pot represents Nelson's three great battles; an allegorical design of a pyramid and crocodile (symbolising the Nile), a fort (symbolising Copenhagen) and an arrangement of militaria with two reversed flags supporting a banner containing the word 'Trafalgar'. Unmarked, attributed to Chetham & Woolley.
SW25. Teapot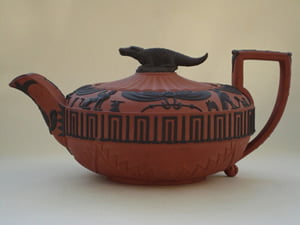 A Rosso Antico moulded redware teapot with applied Egyptian type black sprigs with a crocodile finial.
Impressed mark "Wedgwood".
c.1810-20
Height 12.5cms.
SW25a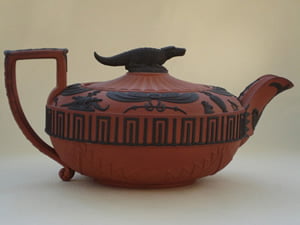 See "Spode" by Leonard Whiter, plate 133 for a grey coloured earthenware version with white sprigs made by Spode.
SW26. Lidded Jug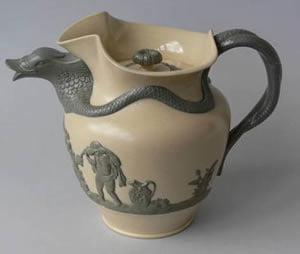 Lidded caneware jug with sage green sprigs of figures. Serpent shaped spout with it's tail forming the handle. Sage green pad mark impressed "BRAMELD" to base.
c.1830
Height 16cms.
See "Rockingham 1745-1842" by Alwyn & Angela Cox, page 111 for other examples.
SW27. Jug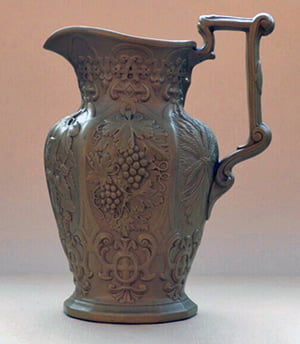 A fine relief-moulded buff coloured stoneware "Harvest" jug moulded with hops, grapevine and sheaves of corn.
On the base it shows the design was registered to Ridgway & Abington on 7th March 1848, there are also impressed marks of "12" and "o".
Height 19.8cms.
SW28. Jug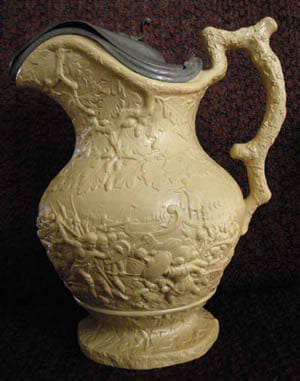 A Charles Meigh buff coloured relief-moulded jug with metal lid.
c.1839
Height 30cms.
SW28a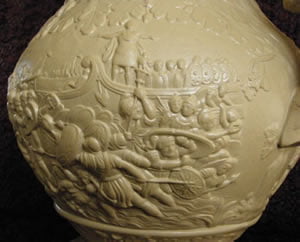 Close up of Julius Caesar encouraging his troops.
SW28b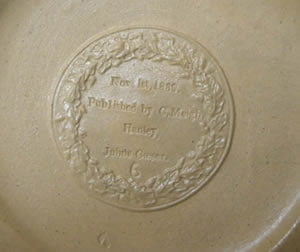 Moulded mark on base showing all you may wish to know.