Dealers
A list of "China-men", their customers and associates in
17th, 18th and 19th century Britain and abroad

This List, compiled by Robin Hildyard over some 30 years,
has been shared with the NCS by the Oxford Ceramics Group.
Major update November 2022
As ceramics and glass tend to lose their provenance the moment they leave the retailer's shop, making a balanced judgement about consumers and consumption solely from the few examples that remain must inevitably be somewhat hazardous. In addition, excavations have proved that the popularity of any particular object cannot be estimated from the numbers that have survived intact.
But the mass of contemporary documentation can provide an unbiased record from which to reconstruct and explore the world of trading and changing fashion, a world of vast fortunes and frequent bankruptcies. It is hoped that this wide-ranging list may become a useful tool for anybody working in the field of ceramics and glass.     RH.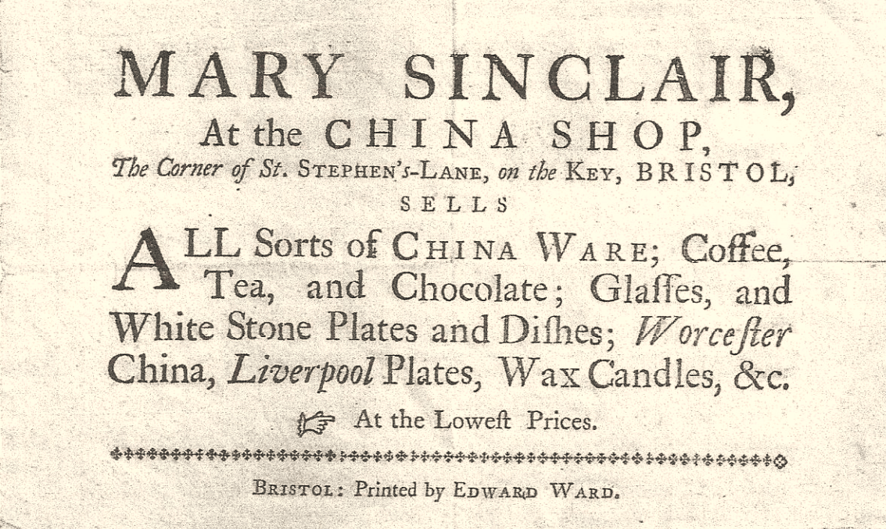 "CHINA-MEN. This business is altogether shopkeeping, and some of them carry on a very considerable trade, joining white flint glass, fine earthenware and stoneware, as well as teas, with their china ware. They usually take with an apprentice from 20 to 50£, give a journeyman 20 to 30£ a year and his board, and employ a stock of 500£ and often more"
A General Description of all Trades digested in alphabetical order, London (printed by T.Walker at the Crown & Mitre, opposite Fetter Lane, Fleet Street), 1747.