Creamware and Pearlware
The 1986 'Creamware and Pearlware' exhibition catalogue can be seen on the CD of the first seven NCS exhibition catalogues, available from the website for a very modest £10!
CP1. NEALE CREAMWARE SPITTOON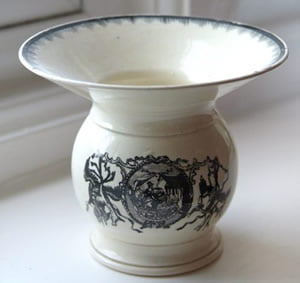 An unmarked creamware spittoon printed with a picture of Minerva (as illustrated in the Neale book by Diana Edwards).
Neale, c1760
Approx 4 inches high and 4 ½ inches in diameter.
CP1(a).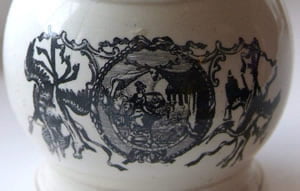 The print is by Thomas Rothwell, an engraver and printer of earthenware and probably porcelain and enamels operating at Liverpool, The Potteries, Birmingham and Swansea.
CP2. CREAMWARE PLATE, ISLEWORTH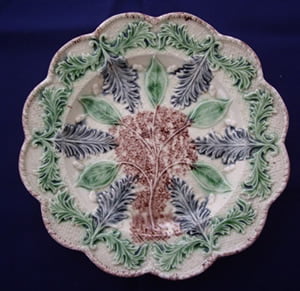 An Isleworth Creamware plate with a scalloped rim. The plate was once part of the William Salt collection.
Identification was established as follows – Shards with identical background veined moulding, leaves and berries were excavated from the Hounslow, Isleworth site. These, in addition to the leaf mouldings had the image of a perching bird. These shards were published in 'Isleworth Pottery and Porcelain, an Exhibition Catalogue', (Museum of London with the ECC) in 2003.
A similar moulding is also known in white salt glazed stoneware.
Isleworth, c1760
24 cm diameter.
CP2(a).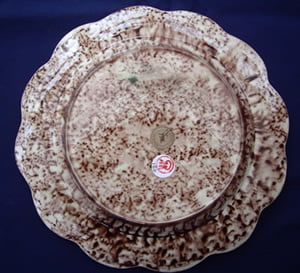 Ray Howard, one of the compilers of the catalogue confirmed that three shards matching the moulding of this plate were dug from the Thames just below the Isleworth pottery site. It seems that waste was dumped in the river at some times. One of those shards had similar tortoiseshell colouring to this plate. These shards have not yet been published.
An image of this plate appeared in 'Isleworth Creamware', by Roger Massey from, 'Creamware and Pearlware Re-examined' Ed. T. Walford and R. Massey, English Ceramic Circle, 2007.
CP3. PEARLWARE TEAPOT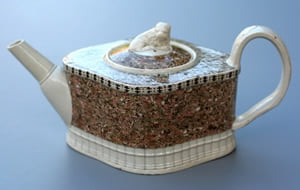 This unusually-shaped teapot is most likely of Staffordshire origin. It is pearlware with a veneer of turners' waste; i.e. shavings from a variety of processes involving the horizontal lathe, rolled into a flat, thin sheet and applied to the pot body in the unfired state. The black slip inlaid rouletted pattern at the shoulder was created on a thin strip of clay which was then applied to the pot body and adhered with slip. The lower portion of the body was engine turned, most likely with a specialized eccentric engine turning lathe. It was fired once to fix the decoration, dipped in glaze and glost fired. The use of the rather exotic engine turning lathe restricts the number of potential manufacturers to the largest and most sophisticated of those which would have had the wherewithal to afford such equipment. Findings in unidentified waste pits in Burslem of fragments relating stylistically to this pot suggest the possibility of Wood & Caldwell as manufacturer.
Possibly Wood & Caldwell, c1795
3.75″ high, inclusive.
CP4. CREAM JUG, SLIP GLAZED CREAMWARE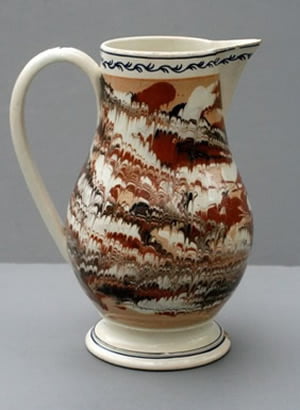 This cream jug is creamware, slip-marbled and combed, with blue painted vines at the rim and with further blue decoration at the foot, handle, and snip. It relates to wasters found in the 1775-1782 deposition of waste of William Greatbatch's manufactory in Fenton, Longton, though not illustrated in David Barker's book, William Greatbatch, a Staffordshire Potter (Jonathan Horne, 1991). The Greatbatch wasters are on deposit in the archaeology stores of the Potteries Museum, Hanley.
Possibly Greatbatch, c.1780
6.5″ high.
CP4(a).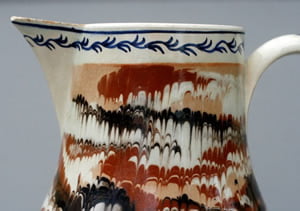 The owner writes; "I purchased my first dipped ware pots in 1972, the year the NCS was founded. My initial exposure to the organization was my attendance at the 1986 NCS/Keele summer school, Creamware & Pearlware. My attendance then and at further summer schools at Keele and, subsequently, Chester, led me to develop my knowledge of this narrow category of British earthenwares and the eventual publication of 'Mocha and Related Dipped Wares, 1770-1939' (UPNE 2006)".
CP5. DAVENPORT CREAMWARE PLATES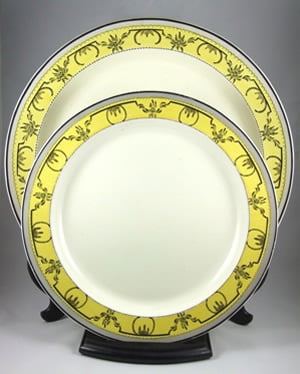 A very large Davenport creamware circular serving plate, along with a smaller plate. Both marked with pattern number 176.
Davenport, c1805
460mm in diameter (18 inches) & 370mm in diameter (14.5 inches).

A creamware mug, maker unknown, depicting the Duke of Wellington when he was a Marquis.
Unattributed, c1790-1812
Size: 5.25″ high x 3.50″ diameter
CP6(a).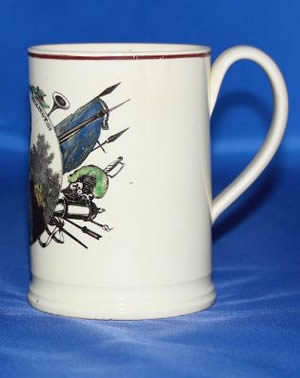 Showing profile of mug with plain loop handle.
CP7. CREAMWARE TEA KETTLE AND STAND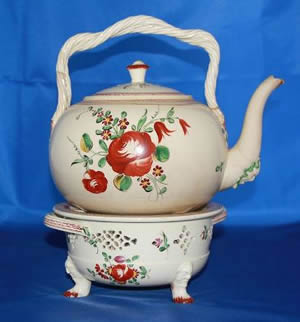 A creamware tea kettle and stand decorated overglaze with polychrome enamels in iron red, green and yellow.
Unattributed, c.1780-1800
Size: Kettle – 8.50″ to top of handle x 7.5″ diameter
Stand – 3.75″ high x 7.5″ diameter
CP7(a).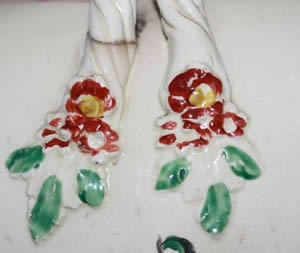 The twisted rope handles terminate on flower and leaf terminals.
CP7(b).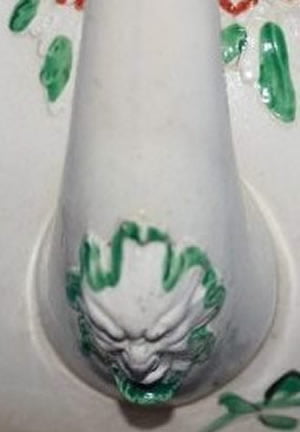 The spout is moulded with a male mask.
CP7(c).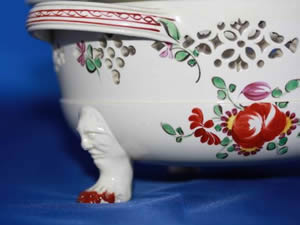 And the stand with masks and paw feet.
CP8. PEARLWARE TEABOWL & SAUCER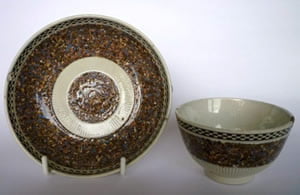 A pearlware teabowl & saucer; decorated by the method now usually called 'Terra Tersia' (previously referred to as 'Granite' or 'Mosaic'). Unfired coloured clays (probably waste fragments) were applied to the pearlware body and the piece would be engine or lathe turned to remove the top layer and reveal the underlying body. This set has a rouletted chequerboard pattern on the edges.
Unattributed, c1800
Teabowl 5cm high, saucer 13cm diameter
CP9. PEARLWARE PEDESTAL BASKET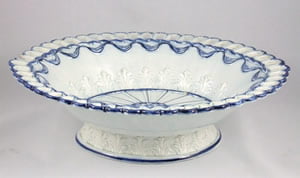 A basket with an arcaded border and blue feather edge decoration.
c.1780, unmarked.
295mm long x 240mm wide x 80mm high.
CP9(a).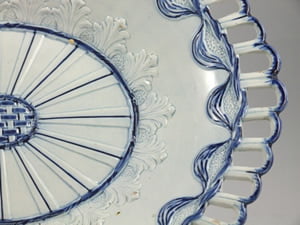 Detail of the crisp moulding on the basket.
CP10. CREAMWARE JUG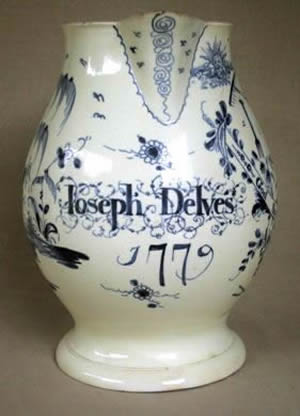 A shapely creamware jug, painted in blue, named and dated to 'Joseph Delves 1779' under the spout.
For references see 'Dated in Blue' by Lois Roberts, no 38 and 'Painted in Blue' p41-43
Possibly made by Thomas Phillips of Longton, c1779
22cm (8 ¾") high.
CP10(a).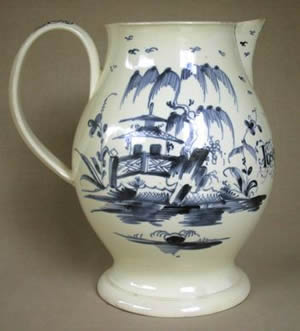 This side, blue painted with a house, fence, tree and large rock.
CP10(b).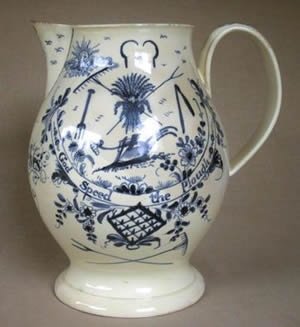 Another side has blue painted farming implements and a "God Speed the Plough" banner.
CP11. PEARLWARE JUG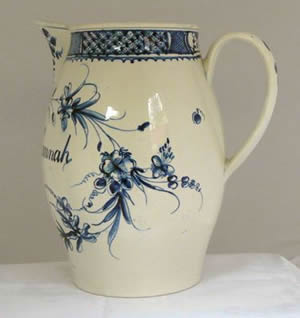 A barrel shape pearlware jug painted in blue with flowers and named to 'Henry and Hannah Smith 1787'.
See 'Dated in Blue' by Lois Roberts, no 102.
Unattributed. c1787
20cm (8″) high.
CP11(a).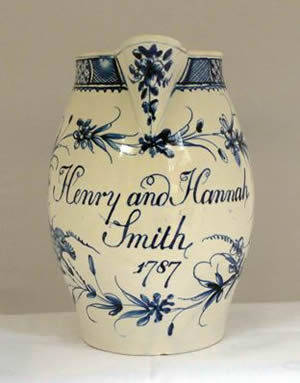 Close-up of painted name, date and spout decoration.
CP11(b).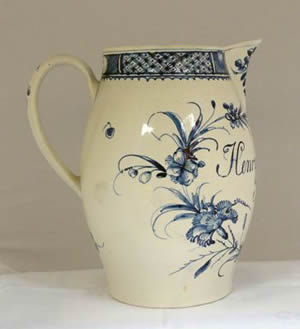 Showing simple loop handle.
CP12. CREAMWARE COFFEE POT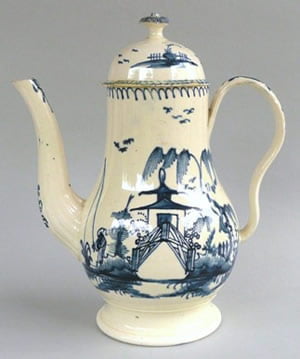 A creamware coffee pot painted with a Chinoiserie scene depicting fisherman near a pagoda, improbably built on a steeply angled bridge. Unmarked.
Probably Yorkshire. c1785.
approx 21cm (8.1″) including lid
CP13. CREAMWARE LOVING CUP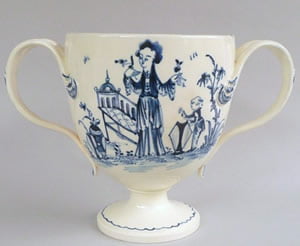 A creamware loving cup painted with a Chinoiserie garden scene with lady and child. Unmarked.
Unattributed, c1780.
Height; approx 20cm (8″)
CP13(a).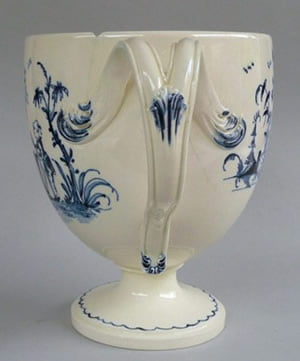 Showing fine moulded handle with blue painted trims.
CP14. PAIR OF PEARLWARE LOVING CUPS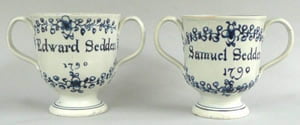 A pair of pearlware loving cups, decorated in under glaze blue; one with a picture of a fisherman and the other with a Chinese figure with a parasol.
Named to Edward Sedden & Samuel Sedden, 1790. Unmarked.
Attributed to Swinton. c1790.
Height; approx 12.5cm (5″) and 13cm (5.1″)
CP14(a).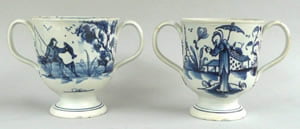 The owner purchased these at different times and places, and says, "It is nice to be able to reunite them!"
CP15. CREAMWARE JUG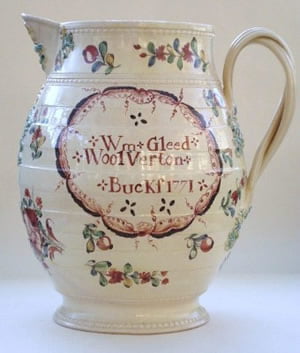 A creamware jug with turned bands and over glaze painted enamel decoration.
Painted name and date of "Wm Gleed, Wolverton, Bucks, 1771".
(handle restored)
Unattributed, c1771
Height 23.5cm (9 ¼")
CP15(a).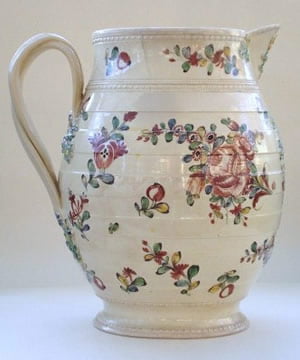 Showing the scattered, polychrome painted flowers to other side of jug.
CP16. GROUP OF CREAMWARE ITEMS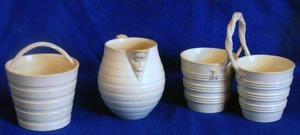 A group of small creamware items, all without any added decoration; a single pail, double pail and mask spout jug.
Unattributed, c1790
9cm(3 ½"), 11cm (4″) & 9cm (3 ½") high, respectively.
CP17. CREAMWARE CUP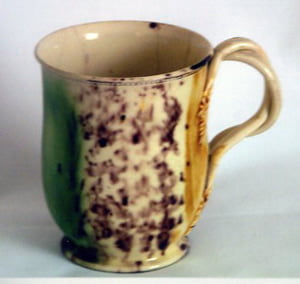 A finely potted creamware cup decorated with painted and sponged metallic oxides.
Unattributed, c1770/80
9cm (3 ½") high
CP17(a).
It has an everted top rim with a fine beaded moulding and a crossed handle with foliate terminals.
CP18. PEARLWARE TEAPOT.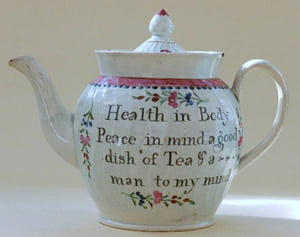 A pearlware teapot decorated in over glaze enamels and bearing the verse;
"Health in Body, Peace in mind, a good dish of Tea & a man to my mind".
Unattributed, c1800
approx 16cm (6 ¼") high.
CP18(a).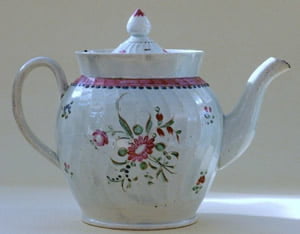 An unusual feature is the curved fluting on the body and lid.
CP19. CREAMWARE TEAPOT.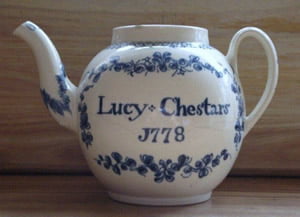 A creamware teapot decorated in under glaze blue with flowers around the name and date of 'Lucy Chestars 1778'.
Unattributed, c1790
approx 12cm (4 ¾") inches high without the lid
CP19(a).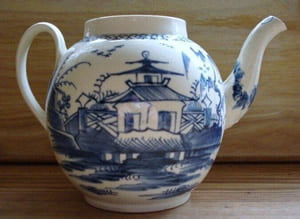 The pot carries an old collector's label for the Gautier Collection. This appears to have been for the collection of Louis Gautier which was sold at London auctioneers Puttick & Simpson on 27th January 1944.
CP20. PEARLWARE TEAPOT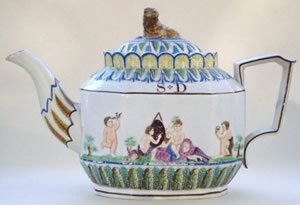 A pearlware teapot, moulded with leaves and classical designs, with a lion finial. It is decorated with enamel colours and has the initials 'S+D'. It has a flat strainer.
c.1800
Height, 15.9cm (6 ¼"), Handle to spout width 24cm (9 ½")
CP20(a).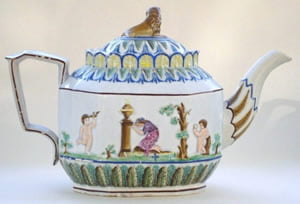 Showing other side.
Unmarked and unattributed.
See Stoneware, SW19 for a jug with similar decoration.
CP21. PEARLWARE TEAPOT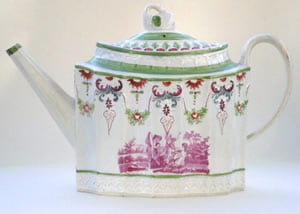 A pearlware teapot with moulded and printed decoration and a swan finial, coloured in over glaze enamels. It has a flat strainer.
Possibly David Dunderdale & Co., c1800-10
Height 16.5cm (6 ½"), width, handle to spout 22.9cm (9″)
CP21(a).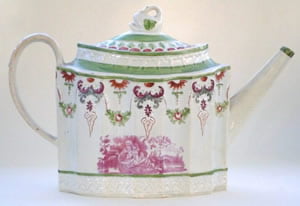 The teapot is unmarked, but the body and spout are very similar to a teapot marked "D.D. & Co" (David Dunderdale) shown in English Dry-Bodied Stoneware by Diana Edwards & Rodney Hampson, fig. 161 page 132.
CP22. PEARLWARE TEAPOT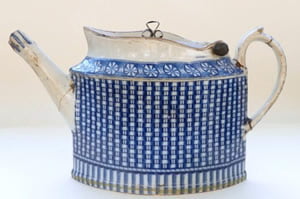 A pearlware teapot printed under glaze with a basket weave pattern. It has a flat strainer and hinged lid (the lid is a metal replacement).
See A Directory of British Teapots by Michael Berthoud, plate 724.
Unmarked & unattributed, c1800
Height 15cm (5 3/8″), width handle to spout 22.9cm (9″)