ORIENTAL EXPRESSIONS
The original 'Oriental Expressions' catalogue is included in the NCS Exhibition Catalogue cd rom available from the website. Click on 'Publications' on the menu bar above).
OE1. CHINESE PORCELAIN TEAWARES, c1740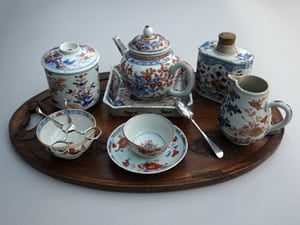 This tray is set with Chinese tea wares of about 1740, and silver of that period. The porcelain is decorated in the Chinese Imari style, with blue and red under the glaze and gold painted over it.
It represents the tea wares which helped spark a revolution in the materials, decorations and forms of British potting, and which awakened a thirst for tea and all the things needed to prepare it and serve it. With the lid of the sucrière doubling as a spoon rest, this tray shows no less than eleven specialised items of porcelain and silver that a fashionable lady of the time really had to have in order to prepare a bowl of tea ….and that doesn't include the boiling kettle behind the scene!
OE2. CHINESE PORCELAIN TEAWARES, c1780
This tray is set with Chinese tea wares of about 1780 and silver of that period. The style of blue and white waterscape shown here seems to have been the inspiration for the British patterns which directly led to the iconic Willow Pattern on millions of British made tea sets.
This tea tray in a sense represents the twilight of Chinese tea wares in Britain. It illustrates a last major impact on British pottery but also times passing. Tea cups with handles will soon put a definitive end to the everyday use of the tea bowl and spoon rest, and an extra jug has crept onto the tea tray.
Mrs Gaskell is later to write in Chapter VIII of "Cranford" how a creamer like this led to disappointed guests at Mrs Jamieson's tea party!
OE3. CHINESE EXPORT PORCELAIN CHOCOLATE CUP & SAUCER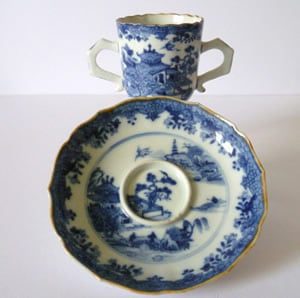 A fluted Chinese hard paste porcelain blue & white chocolate cup and trembleuse saucer dish, painted underglaze with a landscape pattern.
Date unknown, probably late 18th century.
Cup ht. 7cm (2¾"), saucer dia. 13cm (5″)
OE4. CHINESE EXPORT PORCELAIN CHOCOLATE CUP & SAUCER WITH LATER 'CLOBBERED' DECORATION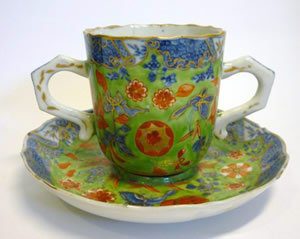 Compare this with the previous example; the original underglaze blue decoration has been largely covered over by the later addition of enamel colours. This sort of 'clobbering' is quite different from the high quality studio decoration which was sometimes applied to Oriental export goods (see the tea canisters numbers OE5 &OE7 for examples).
This cruder over-decoration seems to date from around the 1830s and is often applied to second hand, often damaged, goods and factory seconds. It is most commonly found on Chinese export wares but also appears on Continental and British wares in porcelain and pottery.
Cup 7cm (2¾") high; saucer 13cm (5″) diameter.
OE5. CHINESE PORCELAIN TEA CANISTER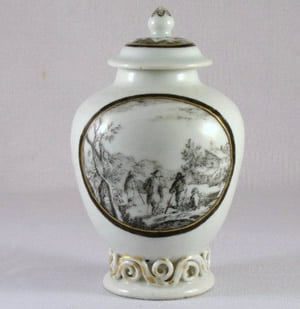 A Chinese hard paste porcelain tea canister of baluster shape with gilded scroll work round the base. The decoration is very finely painted over the glaze in black enamels with a different picture on either side of the canister.
The one illustrated shows three European men and a child walking in a wooded landscape towards a village. This decoration was undertaken in Holland, probably from a European print which the owner has not been able to identify.
Date circa 1750
Size 120mm x 71mm.
OE6. CHINESE PORCELAIN TEA CANISTER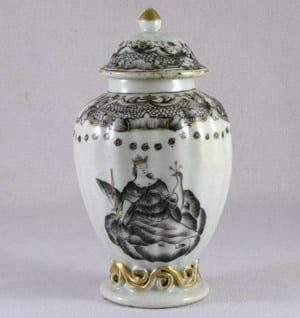 A Chinese hard paste porcelain baluster shape tea canister with gilded scroll work round the base. The decoration is very complicated and painted over the glaze in black enamels.
The same picture appears on either side of the canister and shows the Roman goddess Juno with her peacock. This decoration was undertaken in China on the instructions of a European client who would have supplied the Chinese potters with an illustration of what was required. This canister could have been sent, together with the rest of the tea service, to either Britain or Holland.
Date circa 1750
Size 132mm x 71mm
OE7. CHINESE PORCELAIN TEA CANISTER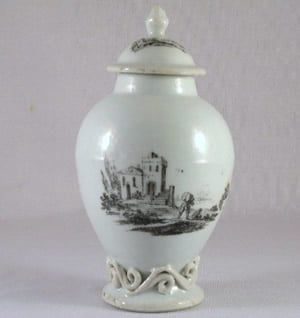 A Chinese hard paste porcelain baluster shape tea canister with scroll work round the base. The decoration is very finely painted over the glaze in black enamels.
There is a different picture on either side of the canister; the one illustrated shows a building, in front of which are two men, one carrying a sack on his back. This decoration was undertaken in London, probably by Thomas Hughes. He may have worked from a European print.
Date circa 1750-1760.
Size 14cm(5½") by 7.2cm (approx 2¾")
OE8. PLATE and CUP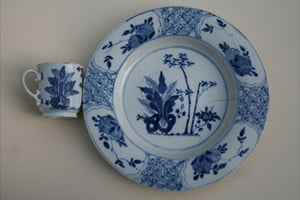 A Worcester plate decorated in underglaze blue with oriental plants in the centre. On the flange a diaper border with floral reserves.
It is pictured with a contemporary (or earlier) Chinese cup with similar decoration. I can find no reference to this pattern. The body has stained and spirally fractured, owing to its early date.
c1753
OE8(a).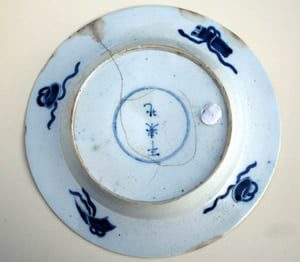 On the reverse an imitation three character Chinese mark and Buddhist symbols on the flange.
OE9. CREAMBOAT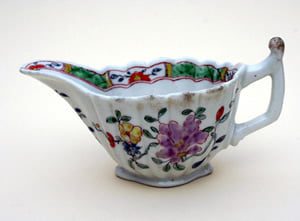 Worcester creamer decorated in pale enamels. This piece shows a combination of famille verte and famille rose influences, typical of early Worcester.
1753-4
4 1/4ins x 2ins. (110 x 50mms.)
OE9(a).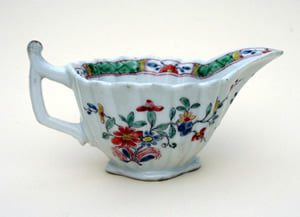 The other side.
OE10. SOFT PASTE PORCELAIN CREAMER, 'BADDELEY-LITTLER'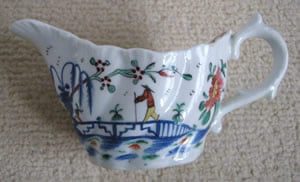 A "Baddeley/Littler" soft paste porcelain "Low Chelsea ewer" shape creamer. Painted in polychrome with a man walking over a bridge.
c.1780
Height 6.5cm (2.5″).
OE10(a).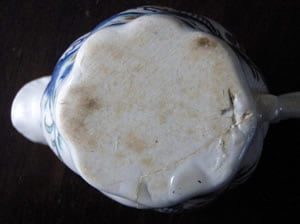 "Baddeley/Littler" were also known as "the dirty bottom factory" see picture for reasons!
OE11. TIN GLAZED EARTHENWARE PLATES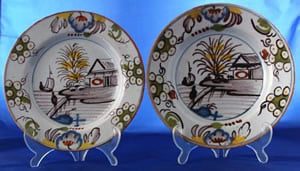 A pair of tin glazed earthenware plates decorated in polychrome.
In the centre a Chinaman crosses a bridge to an island on which are a tree and a house with a sailing ship at sea. (See also the exact shape and style of decoration to that shown in blue on a pale blue glaze, item number 13 in this section)
NB. See reference book 'Delftfield at Historical Deerfield 1600-1800' by Amanda E. Lange, page 82 and 'English Delftware in the Bristol Collection' by Frank Britton, page 202.
Delftfield Pottery, Glasgow, Scotland – c.1760
Size 23.5cm (9.25″) diameter
OE12. TIN GLAZED EARTHENWARE PLATE.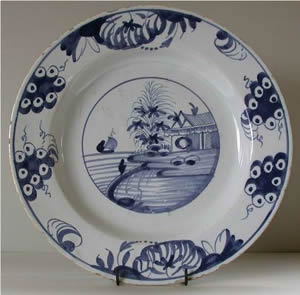 A Delftware plate decorated with the same Chinoiserie scene as the previous plates pictured, but this time decorated in cobalt blue.
c.1760
Diameter: 9.25″
OE13. REDWARE COFFEE POT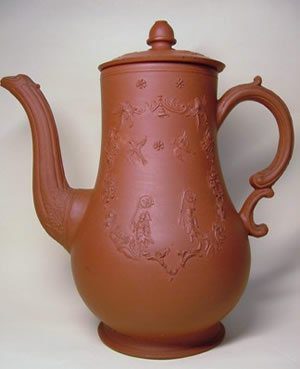 A coffee pot made in a hard unglazed red stoneware with applied sprigs of oriental figures. These developed in imitation of the Chinese Yixing wares, but by this time a more 'English' appearance had developed. 'English Dry Bodied Stoneware' (Hampson & Edwards, 1998) shows a similar piece (fig 9) which is attributed to the Foley Pottery, Fenton and one was exhibited in the 1989 'Oriental Expressions' NCS exhibition.
Staffordshire, possibly The Foley, Fenton, c1770
22.5cm (8 ¾") high
OE13(a).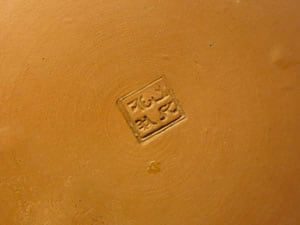 The pot has a pseudo oriental impressed seal mark on the base.
OE14. PEARLWARE JUG WITH POLYCHROME ENAMEL DECORATION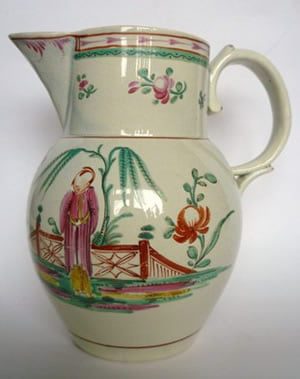 An earthenware jug with pearlware glaze, hand painted over the glaze in enamels.
Unmarked & unattributed, c1800.
Approx 6″, 15.5cm high.
OE14(a).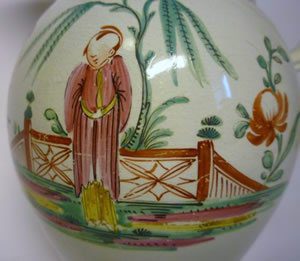 This type of Chinoiserie decoration is more often found on porcelain of the period. Possibly it was made by a factory which also manufactured porcelain
OE15. PEARLWARE TANKARD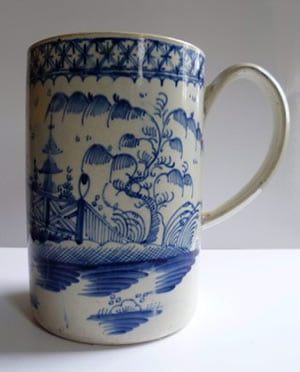 A pearlware tankard painted in under glaze blue with a very typical Chinoiserie landscape incorporating a stylised pagoda, fence and trees.
OE15(a).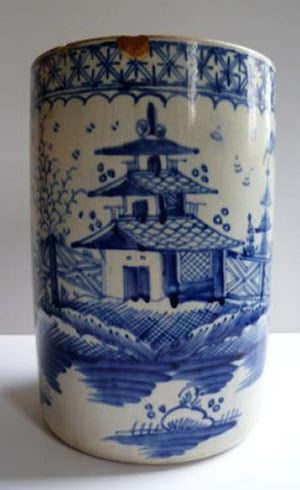 Close-up of grand painted pagoda.
OE15(b).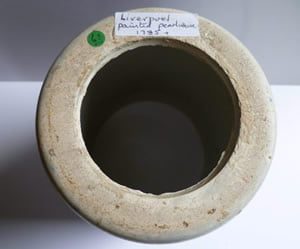 This originally had a glass base (now missing).
OE16. PORCELAIN TEAPOT, KEELING
A 'silver shape' teapot made in a hybrid hard-paste porcelain, painted with an elaborate pattern of figures in a garden in orange embellished with gilding.
This pattern can be seen illustrated in 'Keeling, formerly Factory X' by Jean Barrett page 114, pattern X147.
Keeling, c1800
OE16(a).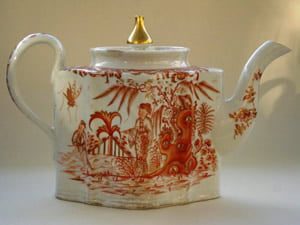 The porcelains of 'Factory X' (now identified as Keeling), were first studied by David Holgate when he was researching his book 'New Hall and its Imitators' in the late 1960s.
OE17. PIERCED BASKET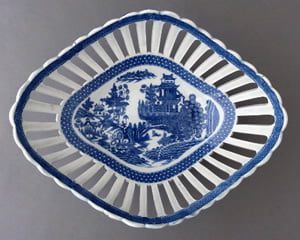 A molded and pierced earthenware basket on pedestal, transfer printed in blue underglaze in the Elephant pattern. While it is unmarked, it can be attributed to Turner. c. 1800-1803.
Probably William & John Turner, c1800-1803
Length 29.2cm (11.5″), Width 22.9cm (9″). Height 12cm(4.75″)
OE18. TRANSFER PRINTED PLATTER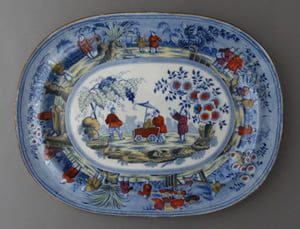 A pearlware platter, transfer printed in blue underglaze in the Chinese Sports: Unidentified Scene #6 pattern and enameled over the glaze. The edge is enameled in brown.
Each piece in a service portrayed a different scene with children engaged in sporting games and this pattern should be considered one of a series.
Preistman attributes the series to Minton due to its characteristic Minton shapes and to the documented pattern 539. (See Preistman, plate 9.28, page 80.)
Minton, c1810-1815
Width 33cm (13″), Length 42.5cm (16.75″)
OE19. DUDSON 'EBONY' JUG
"I don't think that I had turned a pot over to look to see who made it until 1994, by which time I was nearly sixty. My wife and I had collected Mourning jewellery all our married lives, partly because of the liking for the black enamel on gold. In 1994 we began to take an interest in ceramics and one of the first pieces to capture my imagination was a Tankard shape jug glazed shiny black and decorated with a Chinese scene around the body. The scene comprises a group of travellers leading a pony against a strong wind. The scene is made more amusing by the penultimate man having his hat blown off. The combination of the shape, colours and quality had me hooked. We now have about 50 pieces!"
OE19(a).
View of flying hats.
c.1870
Height 15.2cms.
OE20. MINTON FAN-SHAPED BOX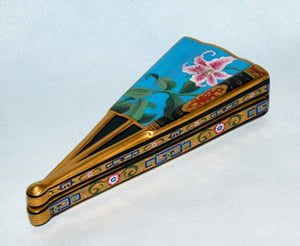 The taste for the exotic continued throughout the 19th century, as illustrated by this Minton bone china trinket or dressing table box in the form of a semi-closed fan. An Aesthetic Movement, Japanese influenced design with a hand painted oriental lily in Minton's rich enamel glazes to imitate cloisonné.
Minton, c1876
23.8cm (9 3/8″) long.
OE20(a).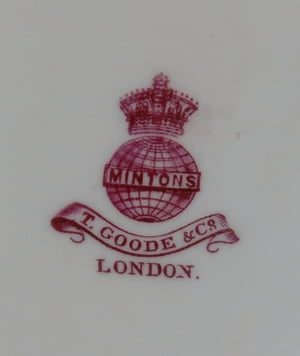 The fan is also marked with the date code for 1876; (registration diamond for June 1876).
OE21. ROYAL WORCESTER VASE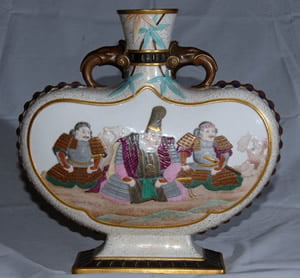 A Royal Worcester parian body, kidney shape vase with elephant handles and embossed Japanesque design of a seated Shogun and his 2 samurai.
It has a pseudo bronze and flecked gold lacquer ground, a treatment at which Worcester excelled. Date marked 1873.
Royal Worcester, c1873
34cm high
OE21(a).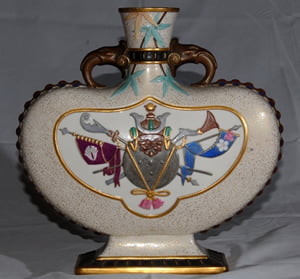 The reverse of the vase decorated with war trophies.
OE21(b).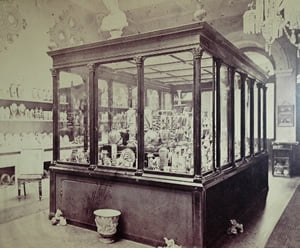 This old photograph of Aesthetic ceramics in a cabinet in the showroom at Worcester seems to indicate it is one of a pair.
OE22. VASE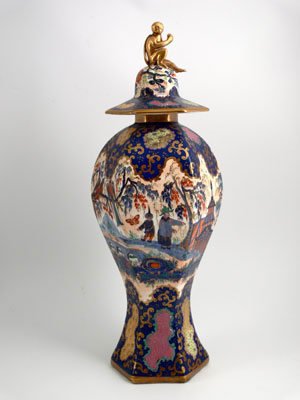 A Brameld earthenware hexagonal Vase and cover, hand painted with oriental figures and scenes. It has a gilded monkey finial. Concentric circles to the base.
Height: 53.5cms.
OE23. TILES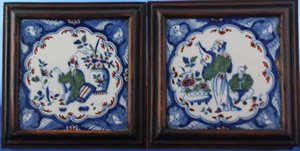 These Bristol tinglazed earthenware tiles are of a Chinoiserie design set within a scalloped border and with cherub corner motif and are based on K'ang hsi porcelain. See Delftware Tiles by Hans van Lemmen, page 119 for further examples.
c.1725-50
Size 5″ x 5″
OE24. MUG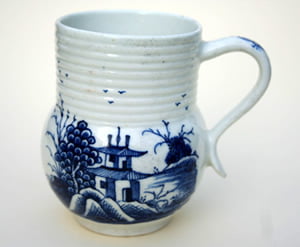 Derby porcelain mug of Chinese shape with a roll handle with a "fishtail" kick. Decorated in underglaze blue with two figures on a bridge, between Chinese scenes.
c.1760.
OE24(a.) The other side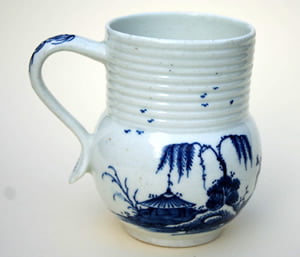 showing rocks, willow and a low pagoda.