YORKSHIRE POTS
"A Celebration of Yorkshire Pots" catalogue is included in the NCS Exhibition Catalogue cd rom available from the website. Click on 'Publications' on the menu bar above.
Y1. HANGING PLANT POT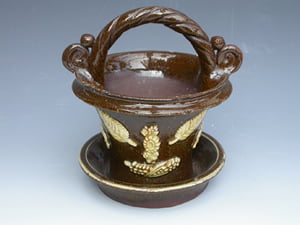 This tall pot with attached base and plaited handle is not a jardinière. The handle is fixed making it impossible to insert a plant pot. Plants were intended to be grown directly in the pot and drainage holes are provided around the side walls to allow excess water to collect in the attached tray.
Although this pot isn't marked the sprig moulds are typical of those found on Burton in Lonsdale pots in the 2nd half of the 19th century and exactly match those on the Ink Standish made for Mabel May Taylor (see Y.2).
21cms tall
Y2. Ink Standish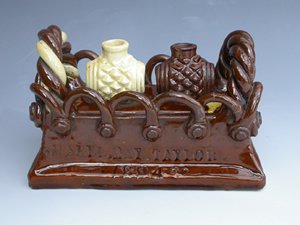 This piece was constructed using red and white clay, both of which were found near the pottery at Burton-in-Lonsdale, West Yorkshire, where this was made. The two barrels would have held the ink, one containing black ink and the other red. It was made for Mabel May Taylor in 1894. The use of impressed printers type instead of slip trailing, as well as the application of moulded sprigs is typical of later Burton wares.
dated 1894
21cm wide, 11cm deep and 13cm tall.
Y3. TAZZA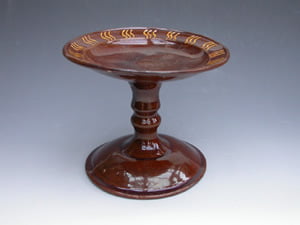 This tazza is undated and fairly plainly decorated but is one of the rarer items to be made at Burton. The slip trailing is finely executed in seventeen groups of three wriggly lines around the rim. Tazza's were not intended for everyday use but reserved for special occasions like weddings or funerals.
1775-1800
21 cm diameter and 18cm tall.
Y4. MUG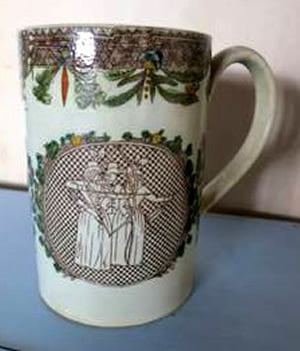 A pearlware mug printed in underglaze brown and overpainted in enamel colours. Ralph Wedgwood at Burslem Staffordshire, or Knottingley Pottery Ferrybridge Yorkshire.
Paper pulls of the main print and of the inner and outer borders are in the Ralph Wedgwood Pattern Book at the Wedgwood Museum, Barlaston.
No mark
1790-1800
Y5. TEAPOT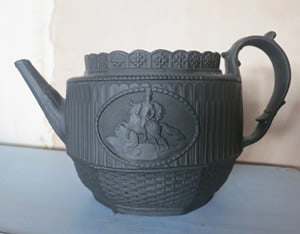 Basalt teapot probably Knottingley Pottery, Ferrybridge. The design is illustrated in the Ralph Wedgwood Pattern Book at the Wedgwood Museum, Barlaston. It is annotated 'March 30th /99 The Newest Pattern in the Pottery.'
Impressed mark 'WEDGWOOD.14'
1799-1800
Y6. TEAPOT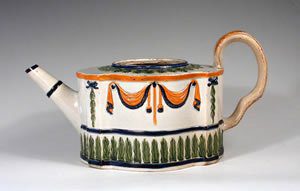 A pearlware Hawley teapot, moulded with tasselled drapes and leaves to the base, picked out in the characteristically strong palette of this factory. It was made either at the Rawmarsh Top Pottery or the Kilnhurst Old Pottery. This piece is illustrated by John Griffin in The Yorkshire Potteries figure 46. Another example is illustrated in John & Griselda Lewis's Pratt Ware p76.
A very similar moulded shape, also decorated in high-temperature colours, was made by Astbury in Staffordshire, see a teapot illustrated by John & Griselda Lewis Pratt Ware p36.
1790-1800
Impressed HAWLEY
Length 10″
Y7. TEAPOT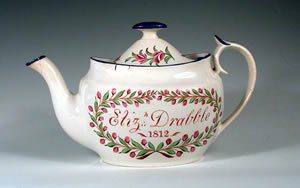 A Don earthenware teapot. One side is inscribed Eliz Drabble 1812, inside a wreath of green leaves and red buds.
The other side is decorated with a spray of flowers in the same palette. The rim of pot and spout, knop & thumb rest are picked out in underglaze blue.
Y7(a). Close up of interior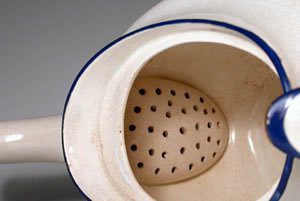 There is a characteristic large raised strainer with a multitude of holes.
Illustrated by John Griffin in The Don Pottery 1801 – 1893 figure 149.
c1812
Length 10″
Y8. SHELL DISH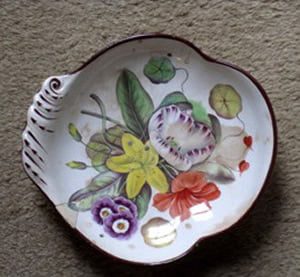 A shell shaped dish similarly decorated to Y.9 For examples of these dishes see John Griffin's Don Pottery 1801 – 1893 Plates 208 & 209.
c. 1810
Shell 8″ x 7 3/4″ ( 20 x 19.4 cm)
Y9. OVAL DISH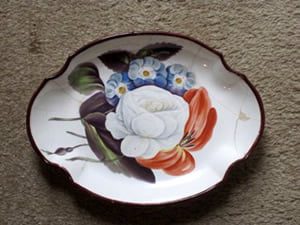 An earthenware dish made at the Don Pottery, beautifully decorated with enamels. (See Y.8)
Oval: 9 5/8″ x 7 1/4″ (24 x 18.5 cm.)
Y10. SAUCEBOAT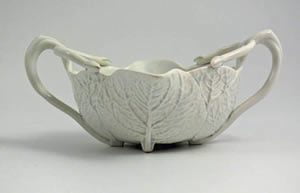 A Brameld earthenware leaf moulded double spouted sauce boat. This very rare piece is leaf moulded in a way that echoes eighteenth century porcelain from a factory such as Longton Hall.
impressed "BRAMELD + 1"
c1820-42
20cm wide, 8cm high.
Y11. SAUCE TUREEN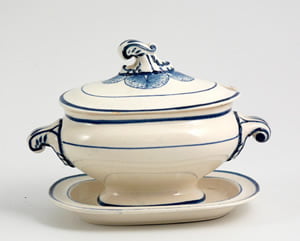 A small sauce tureen, cover and stand in earthenware. It is sparsely decorated with an unrecorded pattern of simple blue lines and has waterlily leaves around the knop.
Stand impressed "BRAMELD"
c1815-25
18 cm wide across handles. 13 cm total height.
Y12. CADOGAN Tea Pot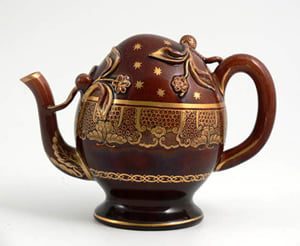 Brameld Earthenware Cadogan Tea Pot.
For details of these pots and the Mortlock mark see Alwyn and Angela Cox Rockingham 1745 – 1842 pages 119 -120
Impressed mark "MORTLOCK'S CADOGAN"
c1820-42
Height: 13.5cms.
Y13. PAIR OF DEER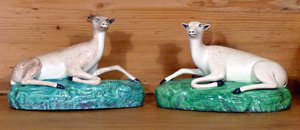 A pair of creamware deer enamelled in naturalistic colours on green bases. The stag has two square holes in its head for the insertion of non-ceramic antlers. Although unmarked these rare figures can be safely assigned to the Swinton Pottery of Brameld & Co, as an example of the stag in Rotherham Museum is impressed BRAMELD. The latter has been illustarted by Alwyn and Angela Cox in Rockingham 1745-1842 at Figure 77 and by John Griffin The Yorkshire Potteries as Figure 140.
c.1820
Each 7″ long.
Y14. APSPARAGUS DISH & SERVERS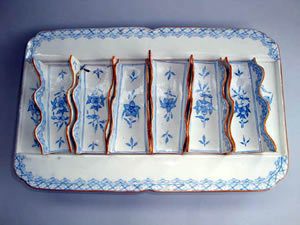 Earthenware Asparagus dish and servers painted with a stylised flower pattern.
Impressed "BRAMELD"
1815-25
36 cm x 22cm x 7cm
Y15. BASKET, COVER & STAND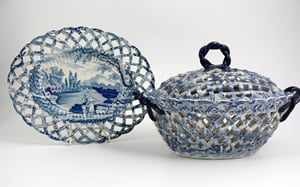 An earthenware pierced basket, cover and stand with rope twist handles and finial, blue printed in the Castle Rochfort pattern.
Brameld
c.1825-42
Basket 27.5 cm wide, 17.5 cm to top of finial.
Stand 28 x 22 cm
Y16. GROUP OF VASES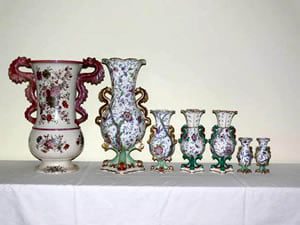 An Extensive group of "Serpent" and "Dragon" Vases. Brameld earthenware. The owners commented that 'this might be the largest gathering of "Serpent" and "Dragon" Vases since the factory closed!'
c.1820-40.
Largest: 52 cm high. Smallest: 15.5 cm high.
Y17. BASKET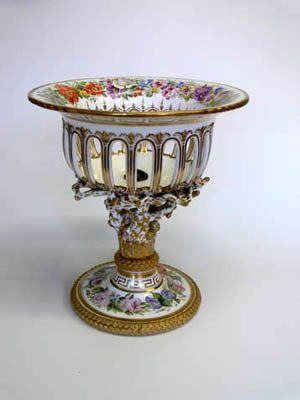 This Rockingham Porcelain basket, with its applied gnarled oak branch, acorns, painted flowers and gilding, was called "Grand Basket" in the Royal Dessert Service commission by William IV in 1830, which was even more elaborately decorated.
See Rockingham 1745-1842 by Alwyn & Angela Cox, pages 241-246 for complete description.
Puce Griffin mark "Manufacturer to the King"
c.1832-37
Height: 29.5 cm Width: 26 cm.
Y18. POT-POURRI VASE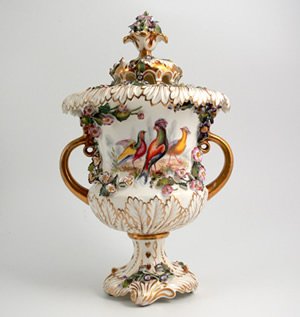 A Rockingham Porcelain campana-shaped pot-pourri pierced lidded vase with moulded acanthus leaves, applied flowers and painted with Randall type painted birds.
Puce mark. "Manufacturer to the King".
c.1830-42
Height: 34.5 cm
Y19. VASE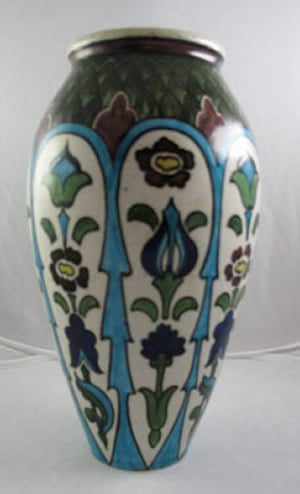 A Burmantofts vase showing Persian influence. Burmantofts is usually given the dates of 1882 – 1904.
Most pieces have a pattern number and the lowest seen is 1 and the highest is 2309, so an average of about 100 per year.
Clearly an early pattern number could have been remade in latter years with the addition of the word ENGLAND which became compulsory in 1891.
ht:22cms
Y19(a). The base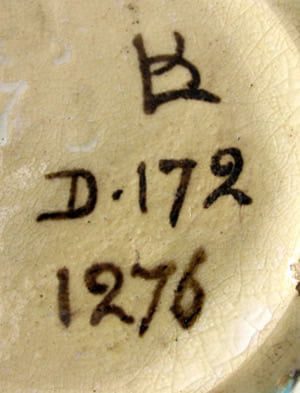 The base showing the marks. The Persian/Iznik/De Morgan lookalikes all have the artist monogram of LK ….. for Leonard King
Y20. MODEL OF A YOUNG GIRL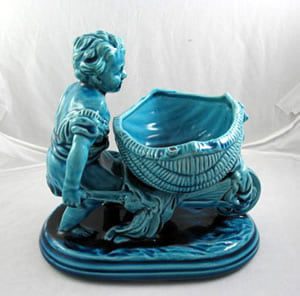 An interesting Burmantofts model of a young girl lifting a wheelbarrow containing a pot, with a striking turquoise glaze.
15 x 15cms.
Y20(a) Mark of above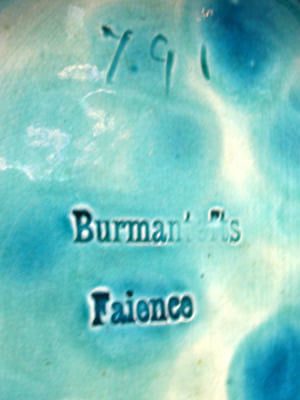 This shows the Burmantofts Faience mark in lower case which was used in the earlier years.
Y21. VASE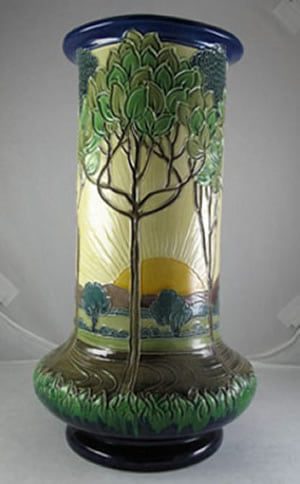 An attractive Burmanstoft vase showing the influence of Art Nouveau.
Height: 29cms.
Y21(a). The mark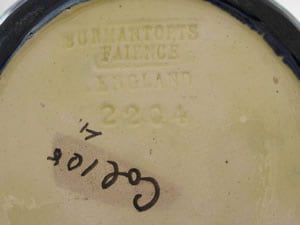 This mark of BURMANTOFTS FAIENCE in upper case was used in the later years.
Y22. CANDLESTICKS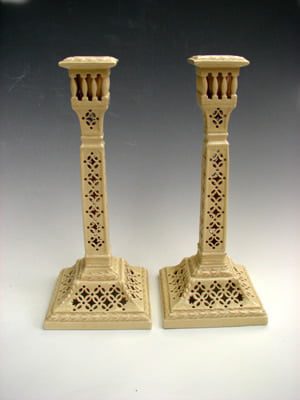 This pair of creamware candlesticks were made in Filey by John Thomas Morton who had formerly worked for members of the Senior family to whom he was related by marriage. John Thomas began work on his own account in 1933 using moulds which had been used by George Senior in Leeds.
The finely pierced work and light weight of the finished pieces are equal to anything made at Leeds but are fortunately easy to identify as they are inscribed underneath J.T. Morton/Filey.
1933-1939
25cm tall
Y23. CHARGER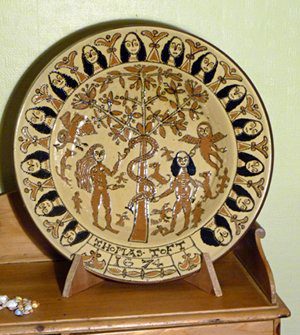 A slipware charger copying the well known Thomas Toft charger dated 1674. This copy was made by the Yorkshire potter John Hudson, who produces many pieces in medieval style and also slipwares and tinglaze wares. He is interested in exploring the techniques of earlier potters.
Only two original Thomas Toft pieces are dated – the Adam and Eve example dated 1674, which is at Temple Newsam and another with Royal Arms decoration dated 1671, which is at the Grosvenor Museum, Chester.
c.2007
It is marked several times with an impressed H mark. John Hudson now marks all his pieces extensively to prevent confusion.