People and Pots
"People and Pots" was the second exhibition of the NCS.  The theme, as the then President, Reginald Haggar, wrote, drew "attention to the social significance of pottery and porcelain and illustrates the reactions of men and women to what was happening around them." A little of that variety is captured here, although the entries are at random, not classified under the different headings as was adopted in the original exhibition.
All previous NCS Catalogues are now available on one CD. Click "Publications" above to buy a copy.
PP1. Coalport Jug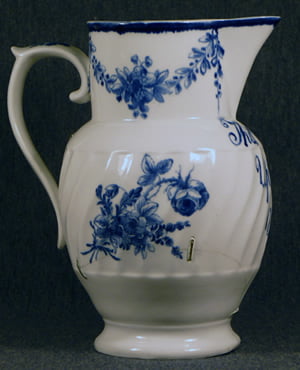 John Rose, Coalport hardpaste porcelain jug. The flower painting resembles Caughley's "Salopian Rose Spray and Tulip" decoration, and is probably by a former Caughley painter.
This small size 'election shape' jug is the only known dated and painted piece during the first year of Rose's Coalport factory. It is painted underglaze blue and inscribed "Tho. Claro Upton 1796".
Height 188mm.
PP1a.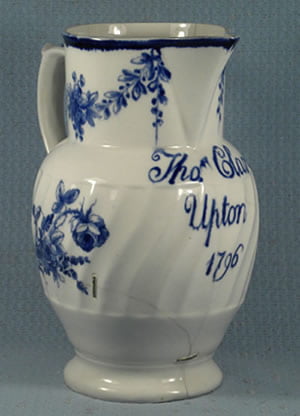 The owner of this jug has researched the following information on Thomas Claro.
Inheriting his father's properties and business, including his "Barges and Vessels of all sorts", Claro, of Upton upon Severn below Worcester, was a substantial boat operator who presumably saw the new works beside the Severn and ordered the jug.
On inheriting, Claro was to pay a total of £600 to his three sisters, almost as much as the total insurance value of Rose's works in 1797.
PP2. Porcelain Figure of the Duke of Wellington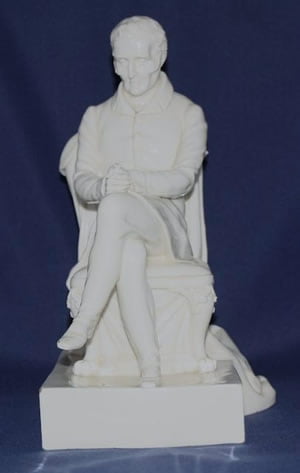 This figure is made in a fine glazed porcelain and is moulded identically to a parian model issued by Samuel Alcock & Co on 18th June 1852.
Probably Samuel Alcock and Co.
Circa 1852
Size – base 20.3cm (8″) x 12cm (4.75″) x 28cm (11″) tall
PP2a.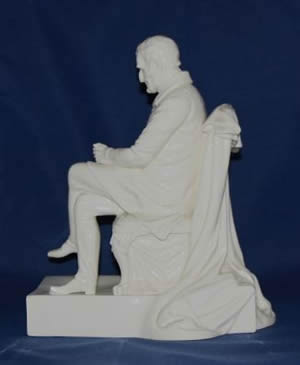 Showing his fine profile.
PP3. Staffordshire Porcelain Figure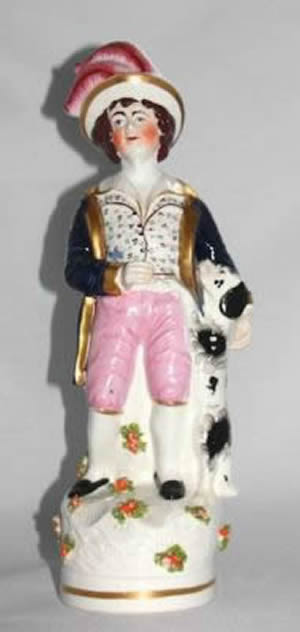 A Lloyd, Shelton figure of a boy wearing a plumed hat, a blue coat and puce breeches with a dog at his side, standing on a circular base. It has an impressed 'Lloyd/Shelton' mark on the rear.
Lloyds of Shelton – Circa 1834-1852
Size – 12″ high
PP3a.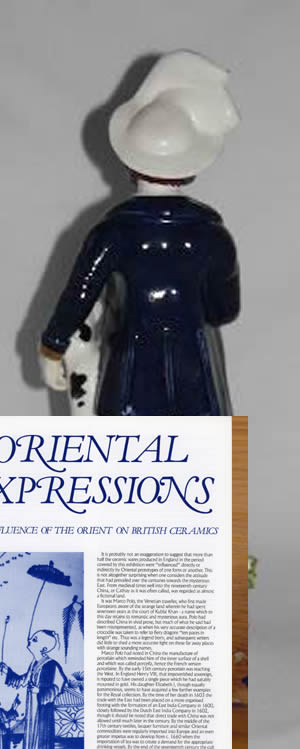 It has an impressed 'Lloyd/Shelton' mark on the rear.
PP4. PLATE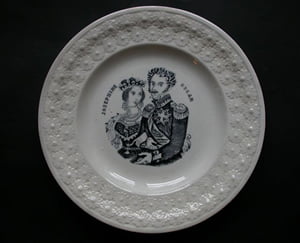 This plate was made by John Carr of Newcastle-on-Tyne and depicts King Oscar and Queen Josephine of Sweden who were married in 1823 and acceded to the throne in 1844.
The plate is impressed John Carr & Sons and incorporates the rare "stag's horn" mark.
mid C19th
PP5. PLATE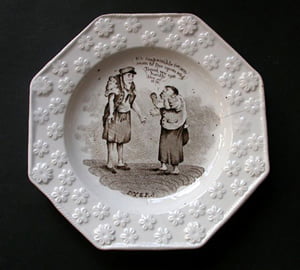 An interesting earthenware octagonal plate with a moulded daisy border. It makes a political point, playing on words! After the the Napoleonic Wars the economic conditions in Britain were harsh and the poorer people suffered badly. Textile workers, including dyers, were particularly hard hit and their wages were cut by up to a third
It may have been made in the North East, but as it is not marked, it could alternatively to have been made in Staffordshire.
c.1850
The largest diameter (from point to point) is 15cm.
PP5a.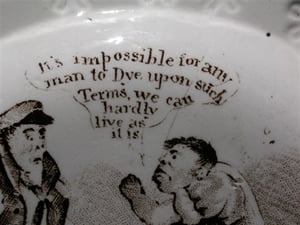 Close up of the comment
PP6. Tea Cannister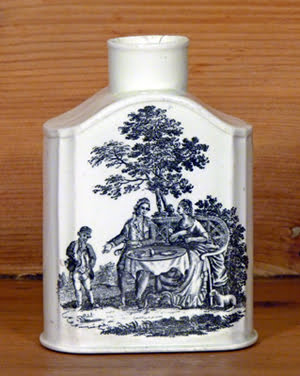 A creamware tea cannister by Neale & Co.
This piece was decorated in Liverpool with black prints by Guy Green, who became the sole proprietor of the independent Liverpool decorating shop after John Sadler retired about 1770.
To this side is "Tea Drinkers"
PP6a.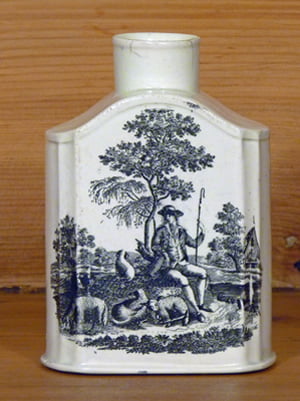 and to the other side "The Shepherd".
Impressed mark to the base NEALE & Co
c.1780
Height 4.5″
PP7. Mug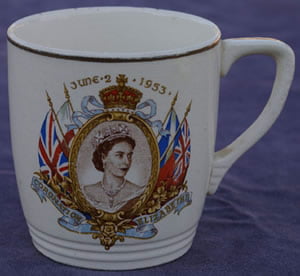 An earthenware mug with a colourful print of the Queen and gold trim.
The owner of this mug says it has been in their "collection" for almost 60 years and if the NCS's 40th Anniversary exhibition needs an excuse for mentioning the Queen's 60th Anniversary we may like to include it.
Height 8.5cms.
PP7a.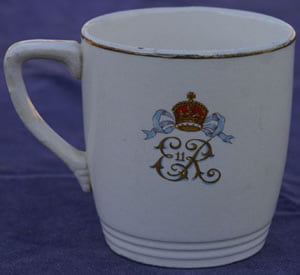 Impressed SPL & England in a circle to base.
Probably SYLVAN POTTERY LTD. from 1946-85.
PP8. Plaque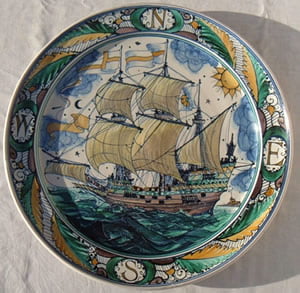 A thrown and turned red earthenware plaque covered in white tin-glazed, and painted with a three-masted sailing ship in a boisterous sea, by Edgar Campden, assistant at Aldermaston Pottery 1961-1985. His monogram is on the reverse; CA, for Campden, Aldermaston, with the year 1984.
Impressed on the reverse is "COMMEMORATING THE ROANOKE VOYAGES 1584-7".
The plaque was made at Alan-Caiger Smiths Aldermaston Pottery, to commemorate the 400th anniversary of the first voyages to America by English settlers, who landed at Roanoke Island off North Carolina.
c.1984
Diameter 36.5cms.
PP9. Set of Jugs.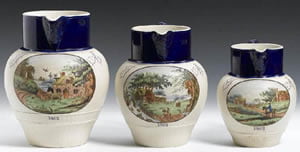 Set of three Chetham & Woolley feldspathic stoneware presentation jugs each with enamel decoration within an oval surround of a rural scene with the initials "J A" in puce script and the date 1801 in black.
See Chetham & Woolley Stonewares 1793-1821 by Colin Wyman for more information.
Heights; 23.5cms, 20.5cms and 17.5cms.
PP10. Staffordshire Figure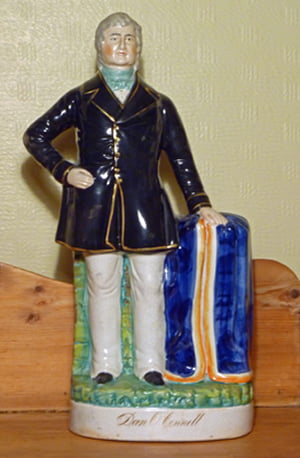 A large Staffordshire figure of the Irish political leader, Daniel O'Connell. O'Connell died in 1847 but remained a popular symbol of Irish nationalism & figures continued to be made long after his death. Six portrait figures are said to represent him. All are rare. Of these, four are titled, including this example where the title is inscribed in gilt script.
It was probably made by Sampson Smith. Inscribed Dan O'Connel
c.1870
Height: 17.75″
PP11. Pearlware Plate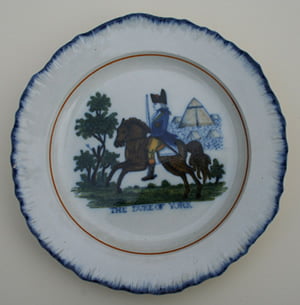 A pearlware plate, decorated in underglaze colours and depicting the Duke of York, mounted on his horse, in front of his encampment.
Unattributed.
c.1795
23cm (9″) diameter.
PP12. Sucrier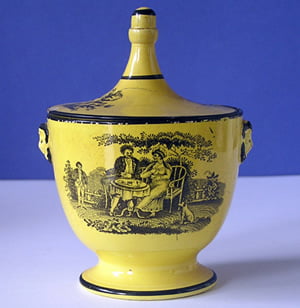 This canary yellow lidded sucrier has a transfer print in black of a version of the 'Tea Party' pattern which is identical to examples marked Sewell. To confirm this attribution the reverse has another Sewell pattern of a man fishing from a boat. The small handles are formed as satyr masks.
Height to the top of the acorn finial is 13cm.
PP13. Lustre Pin Dish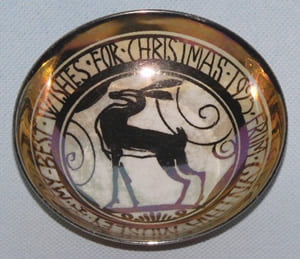 Manufacturer unknown, probably Staffordshire. Copper lustre design with stylized deer/gazelle in the Art Deco manner and 'MY BEST WISHES FOR CHRISTMAS 1925 FROM CYNTHIA MOSLEY'.
Cynthia Mosley (Lady) was the first wife of Oswald Mosley, she was elected Labour MP for Stoke on Trent in 1929 when her husband was elected MP for Smethwick, they soon formed a new party that adopted fascist policies.
4.5 inches diameter.
PP13a. The base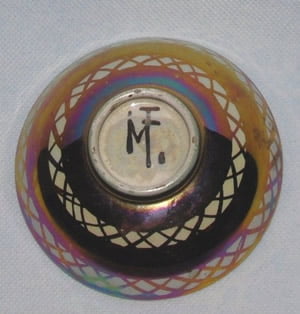 The reverse is monogrammed 'MF' for Moira Forsyth who was a student at the Burslem School of Art whilst her father Gordon Forsyth was President. His influence is evident.
PP14. Bowers 'Alliance' Jug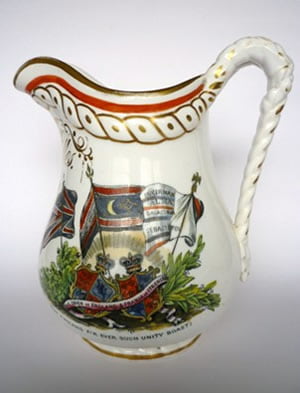 A bone china bodied jug, transfer printed with designs commemorating the alliance of England, Turkey and France during the Crimean war.
G. F. Bowers, 1857
17cm (6 ¾") high.
PP14a.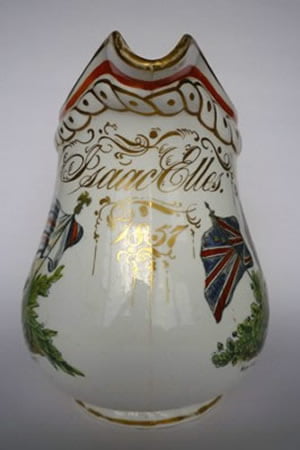 Showing name and date in gilt, "Isaac Elles 1857"
PP14b.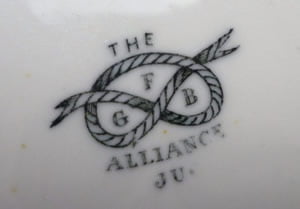 Showing printed mark on base.
PP15. Jug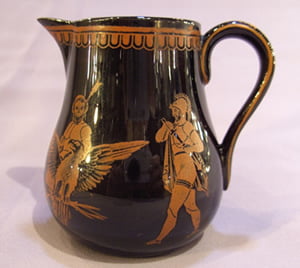 "In 1990 we found this Dudson "Jackfield" jug and through the black syrupy glaze on its bottom it was possible to make out the impressed word EBONY. Dudsons' shiny black glazed ware is now referred to by this name".
c.1870
Height 10cms.
PP16. Armorial Plate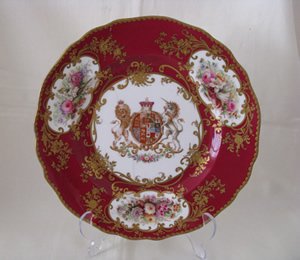 A superb Daniel porcelain dessert plate with rich red ground and reserves of enamelled flowers surrounded by raised and chased gilding. The arms are of the Dowager Queen Adelaide, viz Great Britain and Ireland with the complex arms of Saxe-Meiningen; almost certainly painted by Philemon Smith.
c.1840
26cms in diameter.
See NCS Newsletter No.166, pages 30-33 for more information.
PP17. Bowl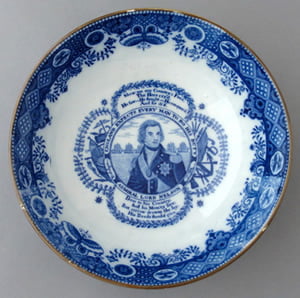 A commemorative pearlware bowl with pedestal, printed in underglaze blue. It was produced to celebrate the naval career of the revered Admiral Lord Nelson after his death at the Battle of Trafalgar in 1805. The same Chinoiserie border pattern was used on both the inside and outside of the bowl. The border consists of two large insects and a number of smaller insects in reserves surrounded by geometric and floral motifs. The rim of the bowl is enamelled in brown.
1805 – 1810
Height: 3.25″ Diameter: 8.75″
PP17a.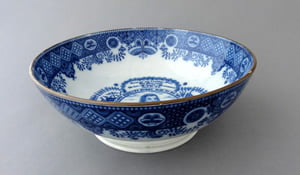 Side view of the bowl.
The piece is unmarked.
PP18. Jug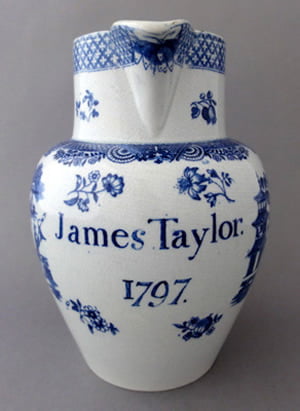 A rather fanciful Chinoiserie pattern printed in line-engraved underglaze blue on this pearlware presentation jug. The name James Taylor and the date 1797 are skillfully painted under the glaze. The pattern is enhanced with a variety of fruit and floral motifs. Two distinct borders are employed: A geometric and floral border is placed above the central pattern and a simple geometric border is printed both on the interior and exterior neck of the jug. The latter also decorates the handle. An undocumented pattern.
See Friends of Blue, Bulletin 134, page 7, where this jug is featured. Also see FOB Bulletin 135, p. 9, for an example of this pattern on a tankard.
Maker unknown.
c.1797-1798
Height: 8.25ins
PP19. Jug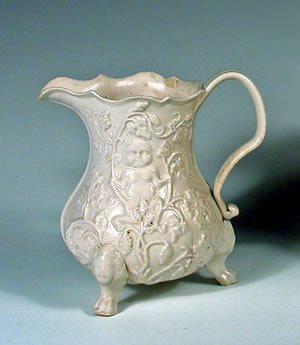 A White Salt-Glazed stoneware milk or cream jug with slip-cast decoration of a nude figure amongst grapes and vines on three mask-head feet.
This jug was in the NCS Stonewares & Stone Chinas exhibition page 41.
c.1750
Height 10.5cms.
PP20. PAIR OF FIGURES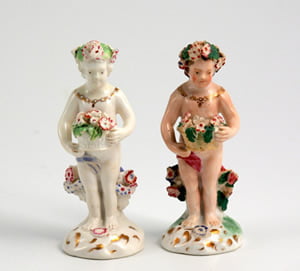 Two figures in Rockingham Porcelain. The left hand figure has simple decoration and a partial Red Griffin mark. The right hand figure is well coloured and is impressed "Rockingham Works Brameld" plus Cl 2 in red. It is also incised No 61. This is the first recording of a figure numbered 61. It partially fills a gap in the known series.
c.1826-45
Height of both figures: 10 cms.
PP21. Tea Cannister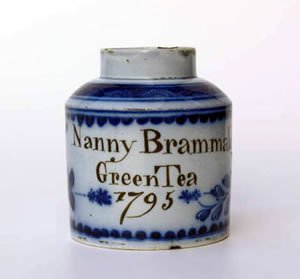 An earthenware tea canister made at Swinton. It is hand painted with blue flowers and is inscribed "Nanny Brammald Green Tea 1795".
c.1795
Height: 9.5cms.
PP22. Teapot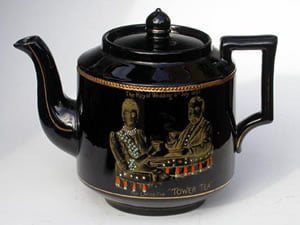 An earthenware teapot commemorating the marriage of Prince George, Duke of York, (later George V of the United Kingdom) to Princess May of Teck. It also advertises Tower Tea.
PP.22a Close up of the commemoration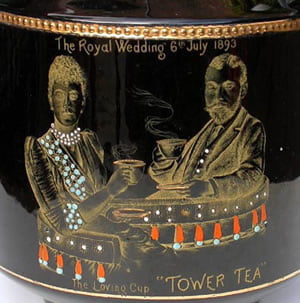 Note the steam curling from the drinks!
PP22b. The reverse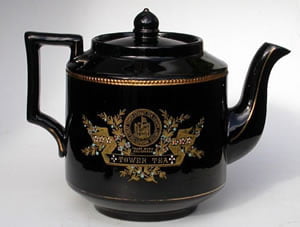 The reverse shows the details of Tower Tea Company and emphasizes how beautifully jewelled the tea pot had been decorated for this special commemoration.
PP23. Coffee Pot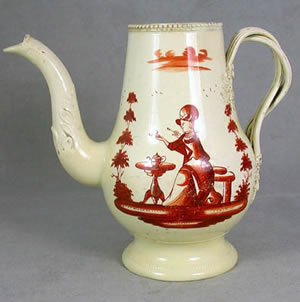 A creamware coffee pot attractively enamelled in red with a lady in a large hat taking tea. This type of decoration is often referred to as 'Miss Pitt', as a saltglaze teapot of this pattern is inscribed with that name. It is a touch of irony that 'Miss Pitt' is taking tea on such a splendid coffee pot!
Possibly Yorkshire
c.1770-75
Height: 8ins (20cms)
PP24. Saucer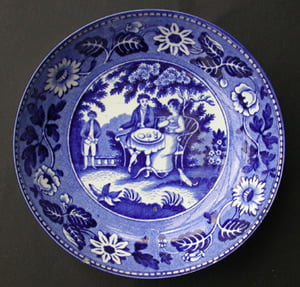 A blue and white earthenware saucer printed with a version of the popular 'Tea Party' pattern. It is interesting to compare this version both with the sophisticated Worcester version (PP6) and the cosier Sewell version (PP12)
Impressed Dawson.
c.1810 – 1820
Diameter: 12.5cms.