The Chrysanthemum pad mark
This gallery is intended to aid research into a group of stonewares with moulded and sprigged decoration that have a small stylized floral pad mark containing the model number. 
If you have additional patterns, or the same patterns in different shapes or different bodies, let us know.
If you have a marked piece of any of these patterns or shapes, let us know.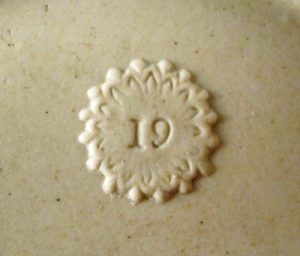 The gallery is arranged in pad-mark number order. The image captions begin with CPM (Chrysanthemum Pad Mark) followed by the pad mark number.  To see a full size image click on any picture in the gallery. The gallery is updated regularly as images of additional chrysanthemum pad mark pieces are made available to us. 
This gallery has been made possible with the help of the following
Howard Crane,  Johan Feyaerts, Dan Green, Katherine W. Griffiths, Dick Henrywood, Graham Heuber,
Leslie LeFevre-Stratton,  Jim McAuliffe,  Paul Walther
Robert Griesbach (ebay seller yellow.fever),  Ebay seller johnmelpots,