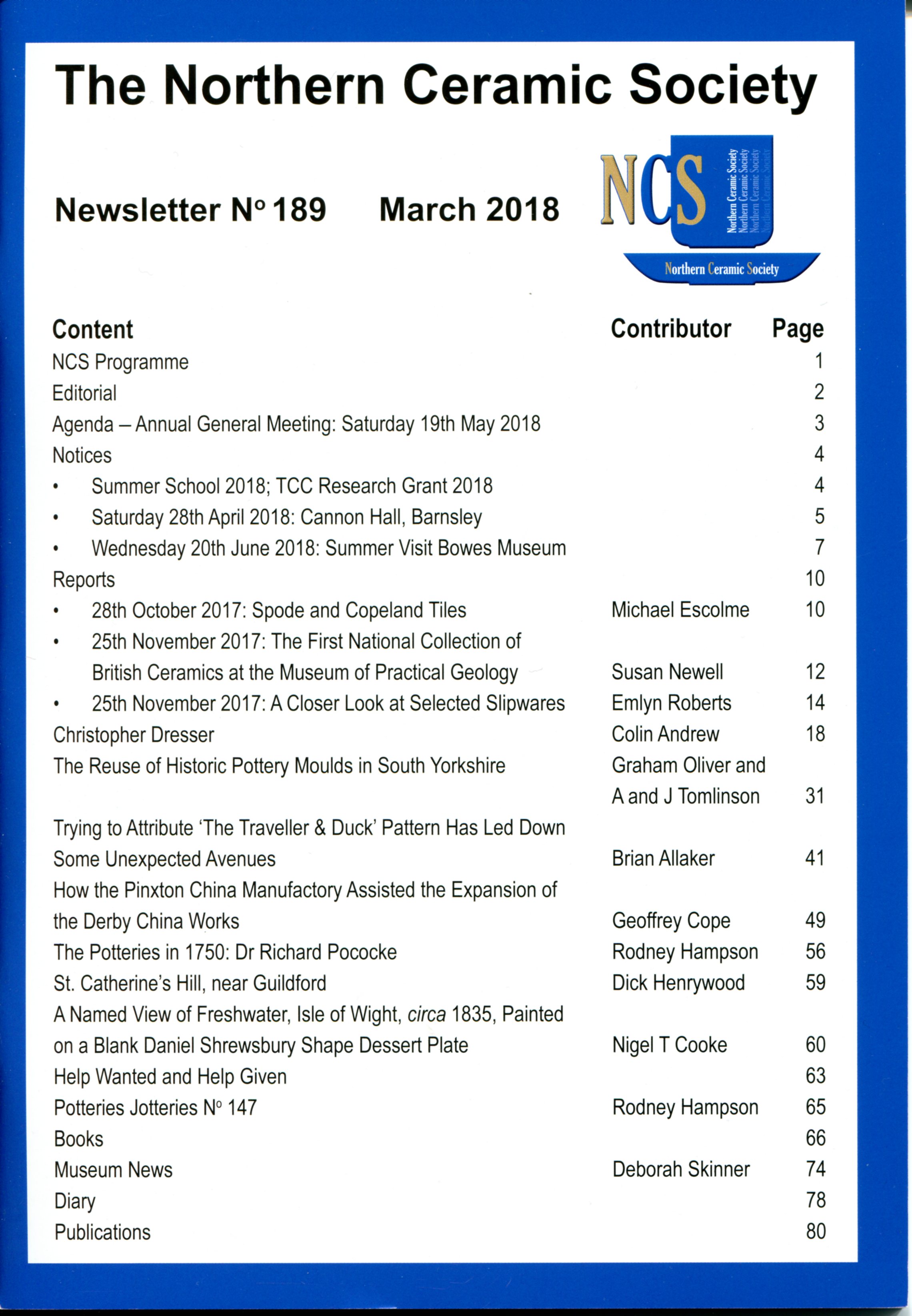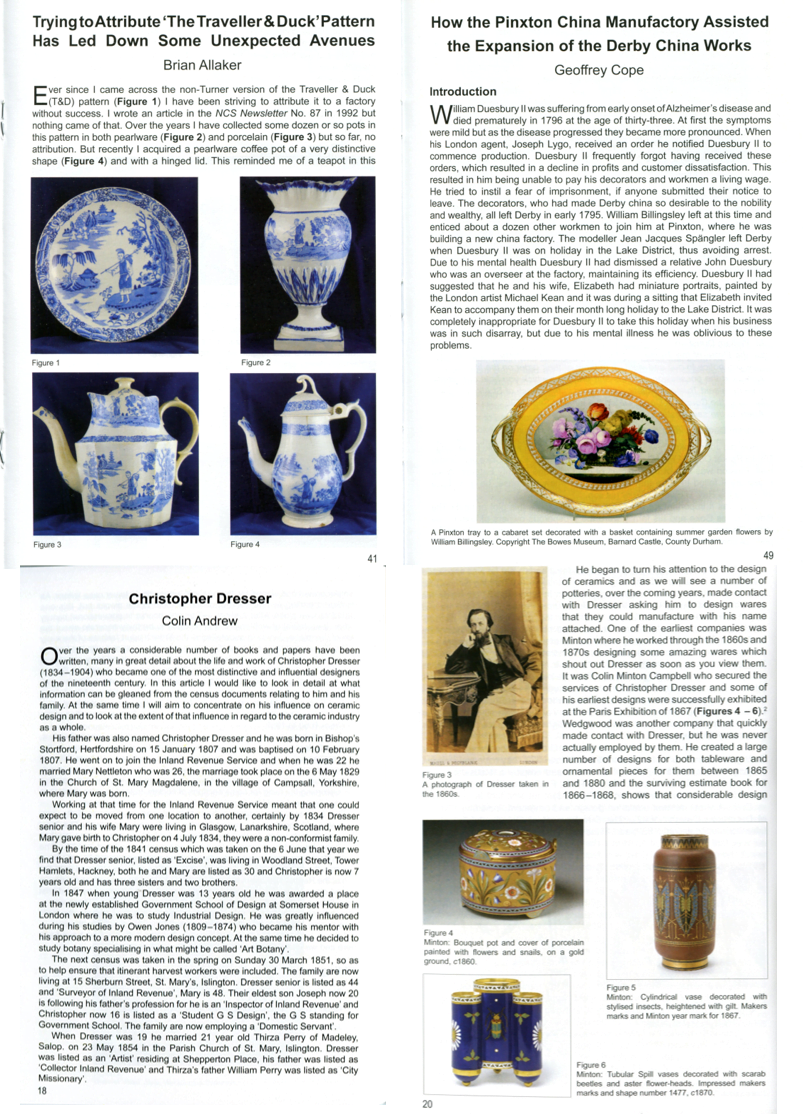 The Newsletter is free to members and published quarterly.
Every edition includes articles about recent research, museum news, book reviews as well as the forthcoming programme and reports of meetings. There is also a 'help wanted and given' page which poses some interesting questions!
Members are welcome to write articles for the publication and the Newsletter Editors are very encouraging and helpful to those who are going in to print for the first time.
Editors' Guidance for Submitting Articles – click here
To contact the Newsletter Editors –  click here
We have a number of past publications of Newsletters. They contain important snippets of research as well as more extensive work and are well worth exploring. By clicking on a newsletter in the list below you can see its Contents and, if it is available to purchase, you will be able to order it online. Out-of-stock Newsletters are available for download if you become a member of the NCS digital archive (via the Publications Archive link in the top menu above).  Full members of NCS pay only £1 to join.
                  
OVERSEAS POSTAGE
Remember to check postage charges if ordering from overseas: for current postage price email publications@northernceramicsociety.org or use our 
contact form 
Newsletter 173 - Mar 2014
This publication is available to purchase at a cost of £3.00 plus £1.50 UK postage and packing (please email publications@northernceramicsociety.org for overseas postage rates).
Journals over 5 years old and Newsletters over 2 years old are available as a PDF download from the Publications archive. See the main menu at the top of the page.
Contents
| Page | Content | Contributor |
| --- | --- | --- |
| 1 | NCS Programme | |
| 2 | Editorial | |
| 3 | Notices: | |
| 3 | NCS Publications Online | |
| 4 | Annual General Meeting Agenda | |
| 5 | Subscription Rates | |
| 5 | A Giles Italianate Service | |
| 6 | Summer Visit to Norwich Castle Museum | |
| 7 | Members' Research Presentations | |
| 7 | Corrections to Newsletter 172 | |
| 8 | An Exceptional Painter of Fruit | Colin Andrew |
| 16 | The Washington Pottery | Pamela Gardner |
| 19 | Thomas Wolfe Master Potter of Liverpool and Stoke - NL 170 | Des Scanlon |
| 22 | The Identification of Swinton, Polychrome-Painted Teapots and Coffee Pots of the Greens, Bingley & Co. Period, 1785-1806 | Alwyn & Angela Cox |
| 29 | Henry Baker, Enamel Printer | Robin Emmerson |
| 35 | The Earl of Abergavenny and Davenport Factory Marks | Richard Coleman |
| 38 | To Tell or Not to Tell? That is, when the question is one of monetary value | Pamela Gardner |
| 40 | The Widow of Zarephath Knop | David M Pendergast |
| 47 | Brisbane Pottery | Louise Boreham & Heather Jack |
| 52 | Handle with Care: A Tea-Management Device | David M Pendergast |
| 54 | Help Wanted and Help Given | |
| 56 | Books | |
| 61 | Museum News | Deborah Skinner |
| 65 | Potteries Jotteries No 131 | Rodney Hampson |
| 66 | Diary | |
| 68 | Publications | |