1805 Letter from Abner Wedgwood to his brother Ralph Wedgwood.
In 1805 Abner Wedgwood was offered a position at the Wedgwood Etruria factory to head a new department of blue printed earthenware.  He wrote to  his older brother Ralph asking for advice on bodies and glazes that he might use to meet the exacting standards required by the business.
Abner was born at Etruria, the fifth son of Thomas Wedgwood who was partner to Josiah in making useful wares in their Burslem and Etruria potteries. He was orphaned at the age of 8 and brought up by his eldest brother Ralph.  Abner was the only brother who pursued a full career in the pottery industry.  At the age of 25, in 1805 he wrote to his brother Ralph: 
Mr Jno Wedgwood is shortly going to live at Etruria and intends to appropriate a part of the Works to make Blue printed &c; and proposed to me, as I understood something about it, to situate me at the head of that business.
The letter goes on to discuss what the Etruria factory wants to achieve and asks Ralph the best way to formulate the appropriate recipes for the necessary bodies and glazes.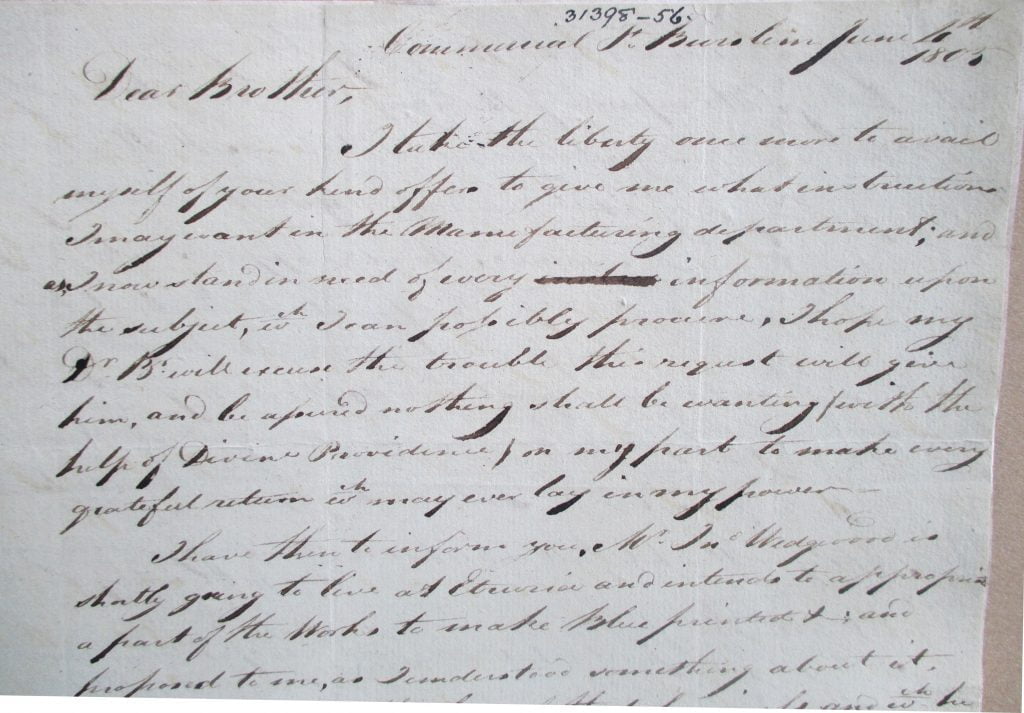 The original document is held at the Wedgwood archives and we thank them for permission to use it.
V&A/Wedgwood Collection, MS No.31395-56, Presented by the Artfund with major support from the Heritage Lottery Fund, private donations and a public appeal