Member's Showcase
Alcock & Co. figure
For more information about this and previous showcases
click here
---
---
Videos of potters and
 pottery making
Have you ever wondered how pots were really made and decorated?  Videos are a fascinating insight.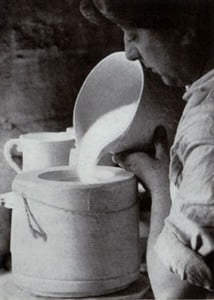 click here to view
 Meetings
Where can you hear about 20th century art decco china, 19th century classical decoration, 18th Worcester porcelain mysteries and rare 16th century owls?
At the NCS of course.  All these subjects were covered at our last meeting.
Don't miss next year's meetings!
 2017 program information
Three original British pottery are now available to view online as Winterthur Library makes more of its collection available digitally.  You can look closely at every page and download any images you find interesting.
The 1796 shape book of the Castleford Pottery, Yorkshire,  with text in French and Spanish is available available here
The 1798 shape book of James and Charles Whitehead, Staffordshire, with an explanation of the plates in  English, German, Dutch and French is available here
The 1814 shape book of Hartley Greens & Co, Leeds, Yorkshire, is available here